Judging by the reactions to some of my gun loving buddies from the army, apparently yesterday's March has sent some people into fits of apoplexy (name and avatar removed from the post):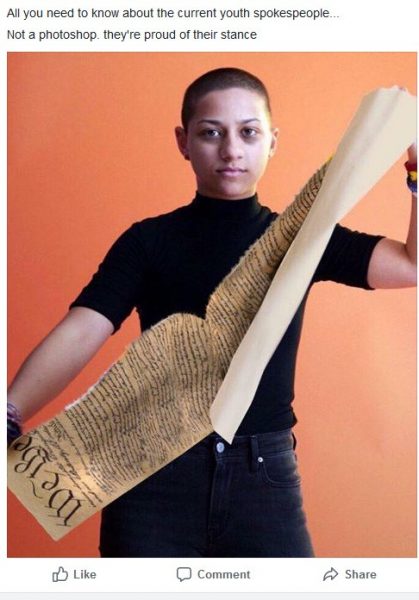 I'm beginning to understand why these guys need to pack heat everywhere they go, because they are scared shitless of a teenage bisexual exercising her first amendment rights. And to be honest, I didn't have "bald bisexual" on my list of potential kryptonite for the NRA, either.
Although in fairness, they should be scared. They can't win the argument on a constitutional basis, they can't win the gun argument on a historical basis, they can't win the argument on thee basis of public opinion, and logic and reason leave their arguments for unfettered access to weapons of war equally fucked. All they have working for them, and mind you, it is a powerful weapon in and of itself, is the status quo.
And these kids are rocking that. And it's about god damned time. The kids should be taking care of their own futures. We adults have failed them.
*** Update ***
I am sorry, I thought it was obvious this was a photoshop. Here is the original:
"We, the youth of the United States, have built a new movement to denounce gun violence and call for safety in all of our communities. This is only the beginning." @Emma4Change pens a searing op-ed on this generation's plans to make change: https://t.co/MV34GJgrdI #NeverAgain pic.twitter.com/FWTpOD1WKL

— Teen Vogue (@TeenVogue) March 23, 2018