ETA: As someone in the borked comments pointed out and I hadn't caught — this story is a couple of years old. Well, that's a long time to sit in my open tabs, ain't it?
I stand by everything said below, and note that this bolsters my view that Trump is a symptom, not a cause, of the deep pathology in which our nation finds itself. That he's making it worse is true, but he's only there in the first place because one of our political parties thought that power was worth race baiting for decades before he ever emerged from his first bankruptcy.
I'm still drowning in grading and book revisions, so I'm blogging even less than usual. But we need more thread, and I've some hate-opened browser tabs to clear, so I thought a dyspeptic proof-of-life post might be the thing.
Today's 2016's offering comes from the great state of Minnesota, where a restaurant operator had an interesting concept of an appetite-whetting joke:
According to the Minneapolis NAACP, Tyrone Williams and Chauntyll Allen were preparing to dine at Joe's Crab Shack in Roseville on Wednesday night when they noticed a photo embedded inside the table.

It appeared to show a large group of white people watching a public execution of at least one black person. On the bottom of the picture, it reads: "Hanging at Groesbeck, Texas, on April 12th, 1895." At the top, the caption reads, "All I said was that I didn't like the gumbo."
For some reason — who can imagine why? — when Williams and Allen registered what they were actually seeing, they were…how to put this?…unamused:
"Although the manager was apologetic about the lynching depiction, that does not change the fact that this sickening image of black men being lynched was intentionally embedded inside of a table," Williams said. "This type of blatant racism should not be tolerated in this country, or in our local and national eating establishments. I have felt sick tomy stomach and stressed out since seeing that image on the table where I was planning to eat my food."

Allen said she could not believe the image was used so casually.

"Seeing a picture of two black men being lynched was the last thing that I expected to see at what was supposed to be a family-friendly restaurant," Allen said.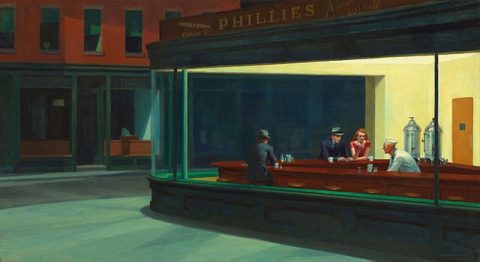 One would expect better — but despite Chief Justice Roberts' certainty that the United States have gotten past racism, that was never true, and is even less so with the Racist in Chief infesting the Oval Office.
The photo was removed from the Roseville franchise — no word on whether it can be found elsewhere — and the COO of the chain's parent company apologized, sort of:
We sincerely apologize to our guests who were disturbed by the image and we look forward to continuing to serve the Roseville community," Catalano said in a statement.
Feh.  The GOP has pursued a race-baiting strategy with success since Nixon. Trump's the most egregious symptom of that tendency, but he's hardly the driver of such hatefulness.  The ubiquity of casual racism and the constant threat of violence is the product of fifty years of a cynical, evil political choice to play on race to win power. It is certainly true that the Democratic Party is far from perfect on all of this, but this is not a both-sides situation. It isn't going to get better until the GOP is a smoking crater on the political landscape.
And with that….talk among yourselves.
Image: Edward Hopper, Nighthawks, 1942.