Via Alexander C. Kaufman at HuffPo, we learn that the EPA has decided that we've all just got to sit back and fry — and like it too, dammit:
The Environmental Protection Agency on Tuesday evening sent employees a list of eight approved talking points on climate change from its Office of Public Affairs ― guidelines that promote a message of uncertainty about climate science and gloss over proposed cuts to key adaptation programs.
Here a couple of samples of the new guidance:
"Human activity impacts our changing climate in some manner," one point reads. "The ability to measure with precision the degree and extent of that impact, and what to do about it, are subject to continuing debate and dialogue."
The other states: "While there has been extensive research and a host of published reports on climate change, clear gaps remain including our understanding of the role of human activity and what we can do about it."
It's clear enough what Scott Pruitt's and Donald Trump's EPA thinks we should do about the global test-to-destruction experiment on which we are now engaged.  F**k-all.  Hades here we come.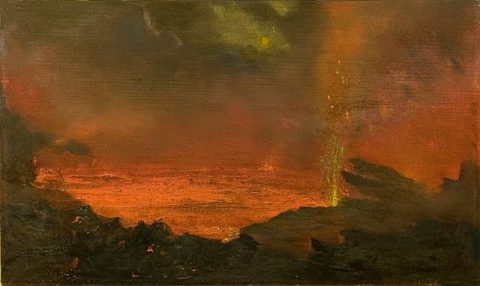 It would be bleak enough if these talking points were an accurate reflection of our government's position on climate change. "We will do nothing to stop this calamity from happening, but will help you prepare for its onset" isn't the most uplifting sentiment. But the Trump administration's actual position on the matter is even worse.

In truth, Scott Pruitt's EPA is about as opposed to helping communities prepare for climate catastrophe as it is to regulating carbon emissions: Last year, the EPA shut down its climate-adaptation program, and proposed funding cuts* to another initiative dedicated to studying the effects of rising sea levels. [links in the original]
Again, as Levitz points out, unchecked climate change will (and almost certainly has already) kill a lot of people. Which is to say this isn't garden valley Republican robbery of most of us to serve the interests of our former Secretary of State and his ilk.  Reckless doesn't begin to describe what the GOP in general and the current administration in particular are doing to the planet, and to Americans' well being, safety and security.
The climate change debacle is not only down to the United States, of course. But nowhere else has the power that we do to shift international action on this.  We're doing the opposite, and the FSM knows how high the bill will go.
On that note: top of the evening to the jackals. Open thread, y'all
*Most of the cuts were undone in the omni-budget bill, but if we have a minor respite from environmental despoilation, it's not thanks to Trump and Pruitt.
Image: D. Howard Hitchcock, Halemaumau, Lake of Fire, 1888