CNN panelist, failed presidential candidate and aspiring Handmaid's Tale villain Rick Santorum said something monumentally stupid about the March for Our Lives this weekend: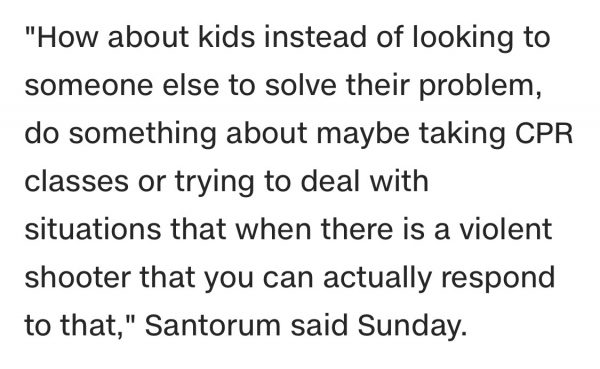 That was a dumb fucking thing to say, as thousands (if not millions) of people pointed out. If someone is bleeding out from gunshot wounds, CPR isn't helpful. This morning, Ol' Froth & Fecal walked it back — sorta:

No, he didn't "misspeak." "Misspeaking" would be accidentally ordering a burrito when you meant to say "taco" or asking for a wrench when you need a screwdriver.
What Santorum did was say something dumb and indefensible. Instead of lamely walking it back with a weasel word, he should resign from the CNN panel, take up knitting with a specialty in seat covers and then have all the fucking seats.
Open thread!