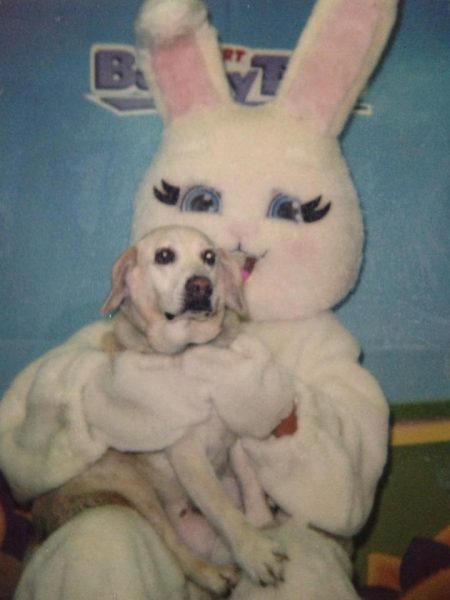 Irie, the bestest dog ever, in my favorite Easter tradition.
One of my favorite Irie stories of all time is sometime in 2004-2005, when he was deep in his decline, and sort of blind and kind of deaf and his coat had gone to hell and his legs were feeble, my sister went out of town one weekend and left him with me to dogsit. As usual, she forgot to bring his leash. I was only 34 and still a wild man, so I went out that night and got rip-roaring drunk, and the next morning, Irie woke me up letting me know he had to go to the bathroom.
I was hungover/still drunk, and planned to go right back to bed, so I just put on flipflops and a tattered bathrobe. Having no dog of my own, the only "leash" I could find was a 30′ orange extension cord. So I looped that around his neck, and then proceeded to walk the gimpy dog around the block. Me with my hair standing straight up wearing sunglasses, a bathrobe, and flip flops, and my decrepit gimpy dog with an extension cord tied around his neck, with all the church goers slowing down their cars as they passed us to figure out just what the hell was going on.
Good times.