Who is your favorite Jesus? No, I don't mean who is your favorite Bible Jesus. That's obvious. It's Jesus busting heads at the temple, doing what any good action hero does when he discovers a den of thieves in his father's house. Then later he says, "Ah'll be back."
I mean, who is your favorite film Jesus? Mine is Willem Dafoe. You gotta like a Jesus with a flat Midwestern accent, the kind of Jesus who, if you got turned around in Beloit, can get you back on 90/94 and on your way to see the Tommy Bartlett Water Show.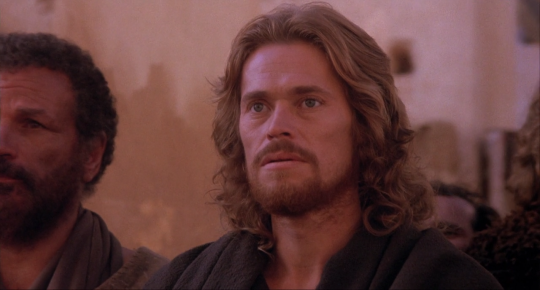 I really liked The Last Temptation of Christ (follow me now). It's right up there with Jim Crace's book Quarantine and Monty Python's Life of Brian in its depiction of the powerful alienness of Roman-occupied Judea. If their literature and customs are anything to go by, that world and those people were very different from us. The idea that whole continents would become so preoccupied with the mutterings and incantations of this little tribe of desert people that it would form the bedrock of societies sounds like science fiction. Trying to get into their heads of the ancients, even if you're not related to them, is a fun exercise.
Despite the fact that it is a very eighties-sounding album, full of whooshy synthesizers, I liked the soundtrack to the film by Peter Gabriel, Passion (getting closer). And even more still than the soundtrack (almost there), I loved the music that was the inspiration for the soundtrack, which is collected in an album called Passion – Sources (arrival!). It was a daily listen for me when it came out in 1989 and it still holds up. World music was, I recall, at its zenith in popularity at the time and seemed to come in two flavors: soporific wind-chime music to calm jangled hippie nerves or traditional songs that actually rocked. The Passion – Sources collection is all rockers. The music sounds untamed and a little dangerous. The YouTube collection below omits a Nusrat Fateh Ali Khan song. Be sure to listen to that one too if you are inclined. It's a jam.
Now that the sermon is over, it's time to pass the plate. Here fund that's split between all eventual Democratic nominees in House districts currently held by Republicans.