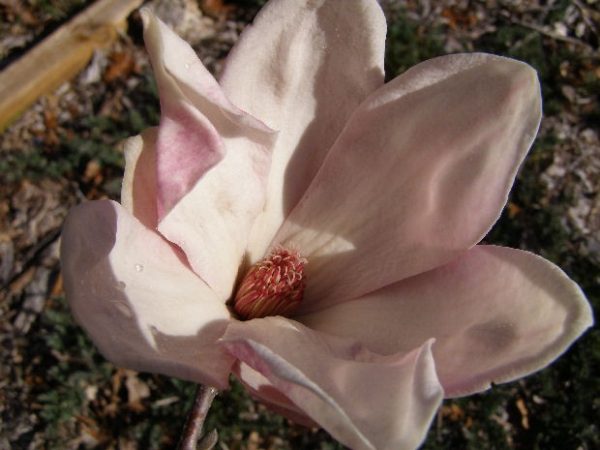 .
From the loyal & gifted Ozark Hillbilly:
Been cold and rainy for over a week, then Friday we had an absolutely glorious day of sunshine to welcome all the things that were just waiting for a reason to pop.

The rains return today with a prediction of light snow for Easter Sunday. Sigh.

First three pics are magnolia blossoms in various stages.

Fourth pic is peonies just coming up.

Fifth of course is daffs.


Seems like I am the only one sending pics these days. My fellow jackals need to step up to the plate.
***********
Timely reminder from the Washington Post — "Winter-battered plants may look dead — but don't give up on them yet":
… It is the time of year when trees and shrubs look their most winter-battered and when the gardener is most eager to see everything lush and healthy.

This spring will be worse than most, especially for broadleaf evergreens. Evergreens need to be fully hydrated before the ground freezes to minimize wilting and leaf scorch when frigid temperatures and winds arrive. But plants in the Mid-Atlantic entered winter in near-drought conditions and then had to endure a prolonged freeze at the end of the year.

The result is already evident — a great deal of browning and scorching on such popular plants as azaleas, cherry laurels and camellias…

With woody plants that appear dead, there is a quick way to gauge their vitality: If you scrape the bark, either with your thumbnail or a blade, a green layer beneath suggests all is well. (If one branch tests brown, check others.) But even if it looks dead, give it a while before reaching for the shovel.

In the garden, false death comes in a number of forms, but the general advice is the same: Wait a few weeks and see what happens. By late May, you will know what is alive and what isn't…
Here in New England, the "traditional" protective snowpack was spotty, and the recent series of nor'easters badly damaged a lot of trees. Full extent of the landscape damage won't be evident until the worst of the fallen branches, and the detritus they've collected as storm followed storm, can be cleared away.
On a much smaller scale… back in mid-January, I ordered a bunch of "sale" plants, an impulse that has now been punished as such usually are. Friday I got a badly-packed Burpee box of blueberry and strawberry plants, in various stages from bare sticks to full bloom, a good month before they were expected. Today I'll finish decanting the last of them into containers, because the ground here is still frozen iron-hard. Then I'll go look for frost covers, because Monday morning is supposed to start with one last "coating to an inch or two" of snow… after which the temps will rise again, perhaps into the 70s by Wednesday, a/k/a the Full New England.
What's going on in your garden (planning), this week?