According to ABC News, which got its info from a Russian readout of a recent call between Trump and Putin, Trump invited Putin to visit the White House. (The White House's version of the call readout neglected to mention the invitation.)
President Donald Trump proposed hosting Vladimir Putin at the White House during a recent call with the Russian leader, a Kremlin aide told Russian media today.

"When our presidents we talking on the telephone, Trump proposed to hold a first meeting in Washington, in the White House," Kremlin aide Yuri Ushakov said, according to the Russian news outlet RBC.
Usually the employee visits the boss's office for a performance review, so this is a bit irregular, but whatever.
I've always been struck by this photo* of Trump's meeting with Russian Foreign Minister Sergei Lavrov and Ambassador Sergey Kislyak the day after he (Trump) canned Comey: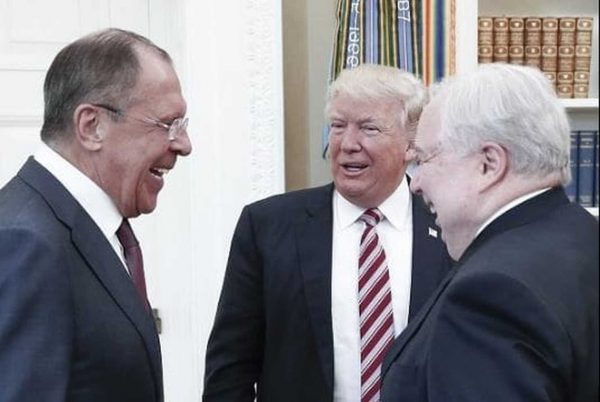 We know he gushed about removing the Comey problem and blurted out top secret intelligence. But the body language was also strange. Trump usually wears that pursed-lipped, jaw-jut face that he imagines to be tough and statesmanlike when photographed in the Oval. But here, he looks like a supplicant — a junior executive newly admitted to the executive washroom and trying to fit it. He'll probably invite Putin to sit behind the Resolute Desk.
Meanwhile, Twitler has been on a Twitter rant about DACA, Mexico, Democrats, NAFTA, Sinclair Broadcasting, Amazon, the US Postal Service, etc., this morning. This is going to be a weird week — I can feel it.
*I know Trump's horrid visage is repugnant to, well, all of us, and I usually try to spare readers front-page photos of him, but it's material to the point I am making this time.