I finally got my great-grandmother's watercolor paintings that she made years ago cleaned up and in new frames and hung, and now I have a conspicuous blank space above my television that needs something: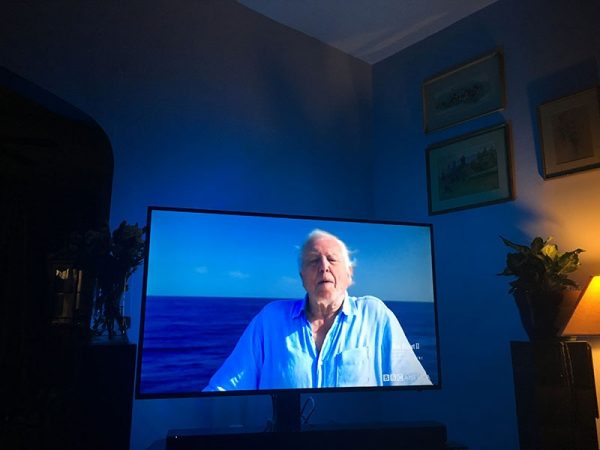 And then I thought we hadn't had an Artists in our Midst post in a long, long time. So here it is- if you have an art or craft, an etsy shop, a musical talent, whatever it is, put a link to whatever in the comments below and share it with the rest of us.
In other news, I received a couch from Fed Ex today, which sounds like it would be great news, because who doesn't like a new couch? However, there is a slight hitch. I did not order a new couch, but for some reason Fed Ex decided to deliver a Mr. Chang Liu of Rockville, MD's couch to me. I was supposed to receive a raised bed garden for the back yard, and the tracking from Fed Ex says it was delivered, but it has not. Were I a betting man, I would make a guess that it is in Rockville, Md.
How this happened is beyond me, but I dutifully called Fed Ex and reported there was a rogue couch on my porch, and would they please come retrieve it and perhaps try to locate my package. Initially, they wanted to argue with me and tell me that the package could not be on my porch, as it was listed in their system as in transit until I asked the woman "How the hell would I, John Cole in West Virginia, know that Chang Liu from Rockville ordered a god damned couch AND provide you with the tracking number unless it was on my front porch and just get your manager on the line." I always try to be nice to customer service unless they want to argue with me, and then I just find it best to get a manager on the phone before I hurt someone's feelings.
At any rate, they are allegedly coming to pick it up tomorrow morning, but have no idea where my package is. I called Mr. Liu (his number was on the package) and we had a nice chat, and he asked me if it was nice and I said it was very nice and I liked the leather he picked out and that it should be picked up tomorrow and he was a little bummed because he had been waiting for it to be delivered. When he gets home from work he is going to text me if my package is there.
Meanwhile, if Fed Ex randomly delivers my raised beds to any of you or your friends, please email me so we can call these idiots and get it shipped here. Last week, a replacement charger for my toothbrush was allegedly delivered here but never showed up, but all I had to do with that was tell Amazon and they refunded my money and sent another one.
Never use anything but UPS or the USPS.