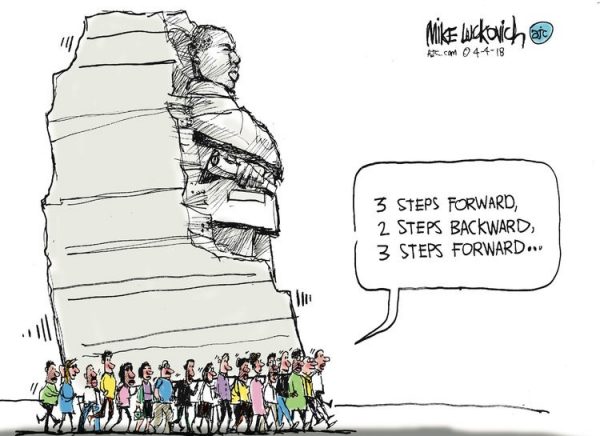 From the Washington Post, "King was unpopular and demoralized before he died. He pressed on anyway.":
… In our long effort to moderate King, to make him safe, we have forgotten how unpopular he had become by 1968. In his last years, King was harassed, dismissed and often saddened. These years after Selma are often dealt with in a narrative rush toward martyrdom, highlighting his weariness. But what is missed is his resilience under despair. It was when his plans faltered under duress that something essential emerged. The final period of King's life may be exactly what we need to recall, bringing lessons from that time of turmoil to our time of disillusion.

Celebrating the march out of Selma, Ala., and his early prophetic optimism made sense in the heady Obama years. Now, we need King's determined faithfulness.

Once refusing to get on a flight in 1967, King called his wife, Coretta, from the airport saying, "I get tired of going and not having any answers." His opposition to the Vietnam War cost him support. At a time of emerging Black Power, King's dream of integration and nonviolence seemed to many insufficient, almost passé. Yet he died still trying to confront "the evil triplets," how "racism, economic exploitation and militarism are all tied together."

A week before his assassination, King told performer and activist Harry Belafonte that he worried the civil rights movement was "integrating into a burning house." But when Belafonte asked what they should do, King replied, "I guess we're just going to have to become firemen." As he fought to be heard, to still be relevant, King's determination awed those close to him, even as they feared for his emotional and physical welfare….

Fifty years later, it would look too familiar to the King of 1968 to see our continued economic inequality, hawkishness, backlash to civil rights gains, and racist violence from Charleston to Charlottesville. His response then was to resist exhaustion from the deluge of issues and to enlarge his work instead, hold firm his insistence.

Every era finds the King it needs. The version we need now is a King who pressed on through doubt to see a radical vision, as we must find one to match the challenges we face. King ran out of certainty but never faith.
Spiro Agnew's scapegoating of black activists immediately following MLK's assassination, @risenc argues, hinted at what @KevinMKruse calls the Republican Suburban Strategy: "one that pretends to moderation and equality but feeds on division and prejudice." https://t.co/TTccw6dwBw

— Jamil Smith (@JamilSmith) April 1, 2018