I wouldn't mind having some of this Mueller iconography for my backyard bar, particularly the candles: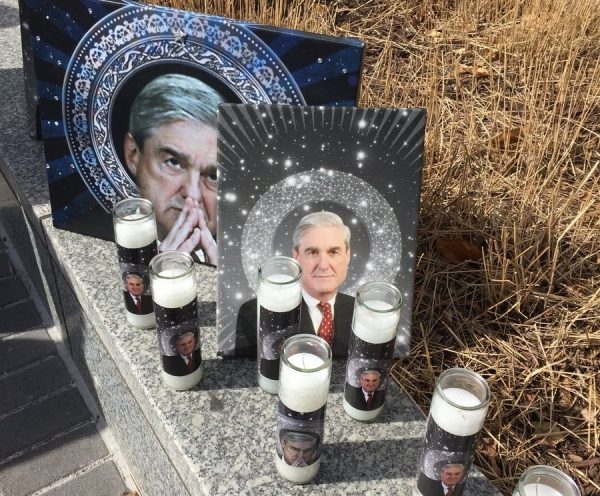 I don't see it so much among the bitter cynics at this here blog, but Mueller's legend as the Patron Saint of Justice who is poised to smite TrumpCo has reached epic proportions in some quarters. I wish they'd manage their expectations better.
Mueller seems like a straight shooter, but we should remember the man is a Republican. Anyone who remained a Republican through the Bush II and then Obama years is morally suspect in my book until they prove otherwise.
Even if Mr. Mueller possesses a store of integrity that is vanishingly rare among modern Republicans, it's possible that his investigation will come to naught, either because there isn't enough direct evidence to nail Trump and his current associates or because Trump's toadies in the DOJ and congress manage to suppress the report.
I'm not trying to be Debbie Downer here. Mueller's investigation has already uncovered a storehouse of malfeasance and corruption that would mire any predecessor's administration in scandal until the day it was turned out of office by angry voters. It says something about the lunacy abroad in the land that Trump can show his face in public anywhere without being pelted by rotting produce.
Maybe the indictments issued so far are just the beginning. Maybe the report alluded to in the news last night will provide impeachment fodder for a Democratic majority congress. I fervently hope Mueller is allowed to continue his work, and I hope he brings the whole astoundingly corrupt pack of grift-mavens down. This is just a reminder that we shouldn't count on it.
Open thread!
PS: My phone is blowing up with alerts about Roger Stone claiming he "dined with Julian Assange" right before Wikileaks started publishing the DNC emails. Haven't we known that for a while now? Maybe Mueller can figure out why Stone had advance knowledge about Al Franken's troubles. If Trump-Russia explodes the myth of Roger Stone, that alone would rid the American body politic of its most prolific and loathsome political tick.