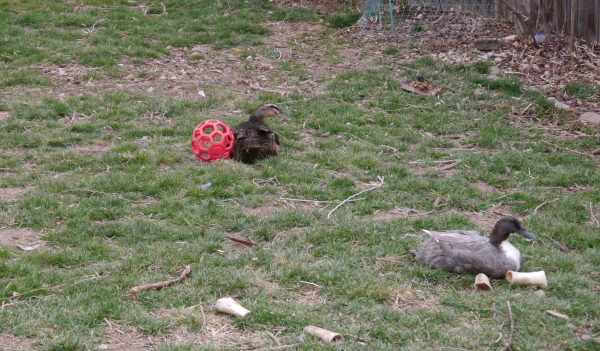 I don't know about you, but I've  had all the "real" news I can handle for the near future.
Here's Mabel and Maddie for a bit of a break. Mabel spent two hours this morning hanging with that ball – didn't even head over for breakfast when I brought it out. I have no idea why, unless she thinks it's some kind of super egg. Her eggs are really big, just not that big. LOL  She moved on finally and now they are dealing with sideways grapple.  Snuggled down by the lilac bushes.
How is your day progressing?
Open thread.
ETA: Scout is 5 months old today, so I'm going to get photos together if the day cooperates.  If you need to get caught up, here are most of her photos to date.