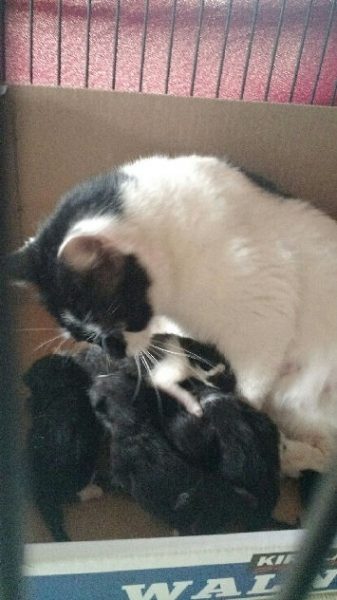 Now we can take comfort that at least one good thing has already happened this week! From wise commentor / gardener / rescue angel Satby:
You may have seen my comments last week about me spending Easter trying to trap a pregnant feral female cat that was part of a group I was feeding over winter. People have requested kitten pictures, so I thought I would share our little lady's saga.

My cunningly hidden humane trap (under the rug) outside the garage I hoped I wouldn't have to go into to trap her. I'm sure you can see why.

Five hours later, having completely ignored my trap, the cat practically walked into a carrier for me in the shed where I had set up a feral feeding station /shelter.


She wasn't very happy when the door was shut. She cried the 40 minute drive to our board president, Becky's house. Becky is the kitten whisperer, Animal Control in 2 counties calls her when they need tiny kittens removed before they catch something and die. Every spring for kitten season Becky converts a bedroom into a "maternity ward". Here is our girl adjusting to her new surroundings.

And a couple of days later, it's obvious that she isn't a feral at all, just a very pregnant (probably abandoned) cat relieved to be safe inside again. She's very sweet. And humongous.

Finally, a week to the day, the blessed event happened this afternoon. She went into labor about 1:30 and finished delivering her kittens about 2 hours later. Five kittens total.

Momma and kittens doing well, though momma is showing some very protective instincts right now. All will be available for adoption in about 8 weeks, including mom cat.

I know other jackals do TNR and rescue, maybe some of them can share some stories and we can have some distractions from the shit-show in DC.