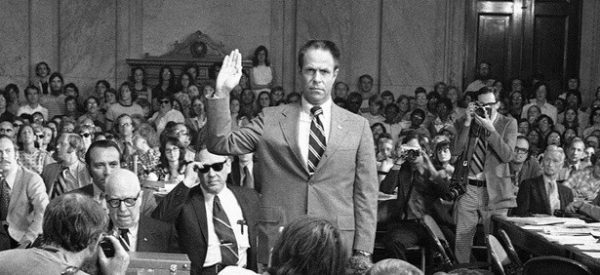 I had dinner with some teens and 20-somethings last night. Our phones were blowing up with news alerts about the raid on Michael Cohen's office and residences and Trump's reaction to those events, so the conversation turned to politics.
As the grizzled warhorse of the group, I was asked if this quickening investigation and presidential freak-out reminded me of Watergate. I indignantly reminded the assembled foals that I was too young at the time to really remember Watergate.
That's true in one sense. My sister and I used to stomp off in a huff when we realized that the televised hearings would preempt our cartoons yet again. In those days, we only had four or five TV channels and one TV because dinosaurs.
But I do remember my mother's excitement as she settled in front of the TV with an ashtray, fresh pack of smokes and cup of coffee. She hated Nixon's guts and watched the Watergate hearings like they were the world's juiciest soap opera.
Mom would try to explain what was going on in the hearings to us. I found her accounts of it fascinating — she was a good storyteller. But though I tried a time or two, I could not hold still to watch boring old white men droning endlessly on TV, and I often wondered how Mom harvested such startling examples of depravity and hubris from such fallow soil.
I don't have to wonder what Mom would make of the current political situation. She died in 2014, but like all decent, conscientious, hardworking people who aren't brainless dupes, Mom loathed the braggadocious conman Trump long before he ran for president.
Anyhoo, now I understand why Mom anticipated those hearings with such glee: It was the prospect of seeing lawless thugs who thought they were above the law brought low and held accountable.
We may not get a similar catharsis in our present age. The Republican Party is an order of magnitude more venal and amoral in 2018 than it was in Nixon's day, and there is a large, well-funded media ecosystem devoted to obfuscation.
But think of Trump attorney Michael Cohen's dismay as agents in blue FBI jackets swarmed his residences and office yesterday. A goon who has intimidated countless "escorts" and disgruntled employees and investors, Cohen likely imagined weaponizing federal law enforcement against Trump's enemies, not staring down the business end himself.
As others have noted, it's like Watergate, only dumber. I intend to enjoy the show this time.