This morning the President warned Russia and its Syrian and Iranian clients that we had the nice, new missiles all ready to go as a response to both the chemical attack on Eastern Ghouta, as well as Russia's attempts to warn the US and its potential allies – from both the existing US led coalition that is Combined Joint Task Force Operation Inherent Resolve or from a new, smaller coalition of the US, Britain, and France designed to just punish the Assad government for the chemical attacks – off of responding.
Russia vows to shoot down any and all missiles fired at Syria. Get ready Russia, because they will be coming, nice and new and "smart!" You shouldn't be partners with a Gas Killing Animal who kills his people and enjoys it!

— Donald J. Trump (@realDonaldTrump) April 11, 2018
Always a good choice to avoid the pre-owned missiles. Sometimes they're owned by little old ladies who only use them to get to and from church on Sunday. But sometimes they're used by folks that just abuse them, don't give them regular maintenance, and run up the mileage on them…
There are already reports of the Syrian military relocating its personnel and equipment to the Russian bases in Syria to protect them.
BREAKING: In past 48 hours, #Syria|n Air Force has relocated all of its airworthy & operational combat aircrafts from #Dumayr, #Shayrat & #Tiyas / #T4Airbase to safe locations while the none-airworthy examples are transferred out of the bases & are covered by camouflage nets. pic.twitter.com/kJsE3STN81

— Babak Taghvaee (@BabakTaghvaee) April 12, 2018
Boy I bet the apron at Russia's Khmeimim Air Base in Syria looks like the Moscow Air Show with all those Syrian Air Force aircraft parked on it by now.

— Tyler Rogoway (@Aviation_Intel) April 11, 2018
This makes anything more than a demonstration strike, which is what was done last year, much, much more dangerous and problematic. The reason for this is that in order to actually reduce Syria's capability to make war, and specifically try to deter the future use of chemical weapons, means that the US and its partners would have to target Syrian personnel and equipment that are now within Russian lines, for lack of a better term. This is one of the major strategic complications as it would create a de facto reality that the US and its partners have just attacked Russian military sites in order to get at the Syrian assets we want to degrade, attrit, and reduce.
Another part of this strategic complication is that the Russian navy has both sortied its Mediterranean fleet to get it out of port where these ships would be easy targets and has conducted a live fire exercise.
#BREAKING: Satellite photos of Russian naval base in Tartus, Syria show all 11 Russian battle ships have left Syria (Pictures: ImageSat International (ISI)/https://t.co/vHpEjFoxzV) pic.twitter.com/IJhcscOD9x

— Amichai Stein (@AmichaiStein1) April 11, 2018
NOTAM & navigation warnings in force around #Cyprus for Wed 11th April
'Russian Navy firing exercise' off the #Syria coast. pic.twitter.com/YzTb6cBfbr

— Military Advisor (@miladvisor) April 10, 2018
The lone Russian air craft carrier is back in port in Russia – it is actually in dry dock for the better part of the next four years or so undergoing a refit. As a result this eleven vessel fleet has limited capability.
More worrisome is that the Russian's have begun electronically jamming US intelligence, reconnaissance, and surveillance (ISR) drones.
The Russian military has deployed jamming tactics against US drones that have affected the US military's ability to operate in the region, NBC News reports.

US officials told NBC News that the Russian military has been jamming smaller US drones. The jamming is focused on the GPS systems of drones, which can result in things like the operators not knowing where the drone currently is, to more extreme results like crashes.

Department of Defense officials speaking to NBC News did not confirm if they lost any of the drones to crashes as a result of the jamming, but one official did say that the jamming is having an operational impact on military operations in Syria.

The drones that have been targeted are smaller surveillance drones, and not the larger ones with strike capability like the MQ-1 Predator or the MQ-9 Reaper, according to NBC News. US military drones are encrypted and are supposed to have defenses against electronic counter measures, suggesting that Russian capabilities are more advanced than previously thought.

Lt. Gen. Ben Hodges, then the commanding general for US Army Europe, said in in 2016 that he has seen Russian "electronic warfare capability at a tactical level that we absolutely don't have."

Russia's ally in Syria, Iran, also reportedly has hacking capabilities. In 2011 it claimed that it hacked into a US RQ-170 Sentinel and forced it to land after it gained access to its GPS.
Russian jamming of our ISR drones is intended to communicate to US and allied military commanders that they will not have a friendly electronic environment if they go with an application of strategic air strikes. This complicates not only targeting, but any potential search and rescue operations that might need to be conducted if something went wrong.
There is another set of strategic complications I want to focus on, which is where Russia has moved its military assets over the past 6 months or so. Russia has begun building out its Western Military District. This is the Russian version of a geographic combatant command that borders the Baltics, Scandinavia, Ukraine, and Belarus.
Russian Ministry of Defense announces that 1 100 military facilities/infrastructures will be built this year in the Western Military District. This includes soldier's dormitories, training area's, service stations, hostels to accomodate soldiers etc. pic.twitter.com/7L5VpxD21V

— Mikhail D. (@Eire_QC) January 9, 2018
This includes ramping up exercises and mobilizations under cover of wildfire season preparedness:
https://t.co/ucq4ogaiUS: In the Western Military District, a training exercise was launched on the use of air defense crews of the Air Defense Forces in extinguishing large forest fires https://t.co/0WxX7SZh1b

— Russian Exercises (@RUSexercises) April 2, 2018
Definite large scale command and staff exercise in Russian Western Military District.

3000 soldiers of combined arms army will exercise in Leningrad region. https://t.co/kYQqaQNv3n

— Aki Heikkinen (@akihheikkinen) March 19, 2018
https://t.co/ucq4ogaiUS: About five thousand troops are in a three-hour stand-by for dealing with emergencies https://t.co/N0T8n8qmdP

— Russian Exercises (@RUSexercises) April 10, 2018
Thats a hefty number of soldiers in 3hrs standby in Russian Central Military District.

Trying to give impression it's for civil emergencies like ice dams but hey, you sure need attack aircraft for that! https://t.co/B9MqvofVbb

— Aki Heikkinen (@akihheikkinen) April 10, 2018
Here's how Russia's military is deployed in their military districts: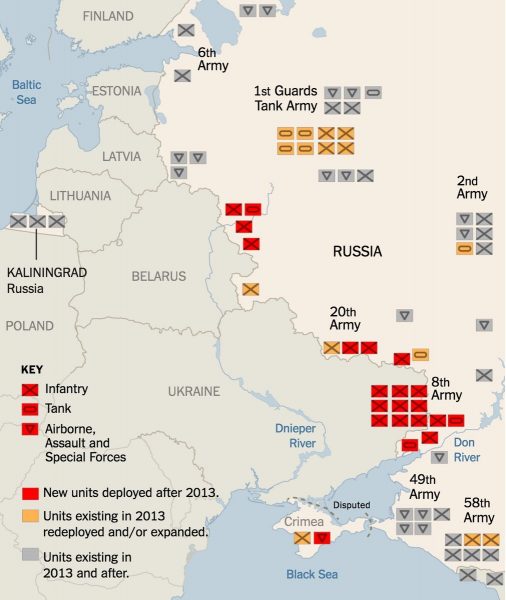 (Map 1: Russian Military Units)
And here's how NATO and Russia's military stack up right now: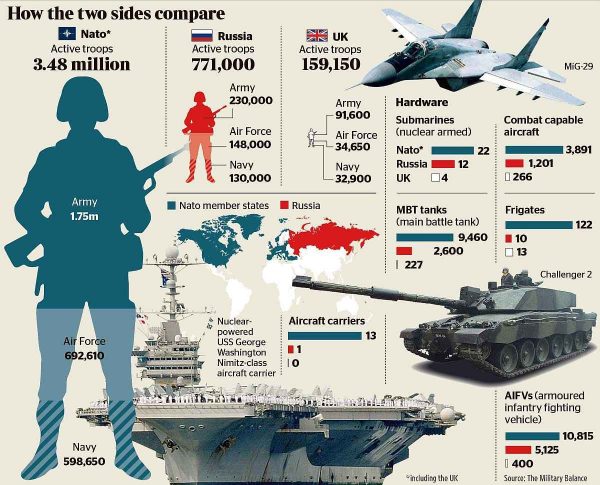 (Figure 1: NATO Assets Vs. Russian Assets as of 2017)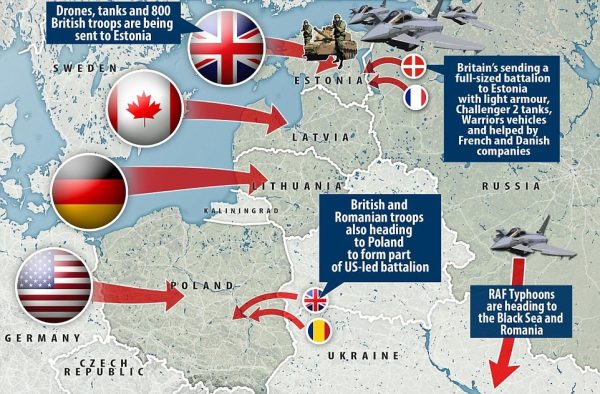 (Figure 2: NATO and Russian Deployments as of 2016)
This second strategic complication should be of great concern. The Russian military, despite being much smaller than the US's and much degraded by Russian economic realities from the vaunted Soviet military, has been deployed and positioned to threaten the US's NATO and other allies in Eastern Europe and Scandinavia. Sweden and Finland have been moving towards a war footing, while our Baltic allies have also increased their readiness. Moreover, the Russians have been sniffing around the undersea transatlantic cables that connect the US and Europe for communications purposes. And we now know that Russia's cyberwarfare capabilities means they don't have to actually do anything military to retaliate. Russia could just take down parts or all of the US power grid. Russia has also been able to both penetrate for manipulation and penetrate to take down emergency communication systems, as well as planting false stories about natural disasters and terrorist attacks via social media penetration. Imagine what happens should Putin decide to retaliate by turning parts of the US power grid off and interfering with 911 and emergency communications systems, while at the same time spreading disinformation made to look like actual news reports or official municipal, state, and/or Federal responses to the disaster he's created.
Either a military response against US forces in Syria and Iraq, our NATO allies and partners in Europe, and/or a cyberwarfare response within the US are all potential Russian responses to a US led coalition military response to the chemical weapons attack in Eastern Ghouta last week. These are the strategic complications that the US and its potential allies face in developing their plans and sequels to them. These are the strategic complications faced by the President's senior military, national security, and foreign policy advisors.
The final strategic complication is the one we started with, the one the President created for himself this morning. By threatening Russian and its Syrian and Iranian proxies with the nice, new, and smart missiles he's tweeted himself into a corner. He either has to actually do something in response to the chemical weapons attack in Eastern Ghouta or he will have destroyed any credibility on this type of matter in the future, as well as weakened America's strategic communication capabilities. Regardless of the strategic complications on the ground in Syria, in Europe, or within the cyber domain, the President has boxed himself in. The President has finally tweeted himself into trouble that he can't tweet himself out of. Either he orders a response and risks an escalation or he backs down and loses what little face he had.
Stay frosty!
Open thread.