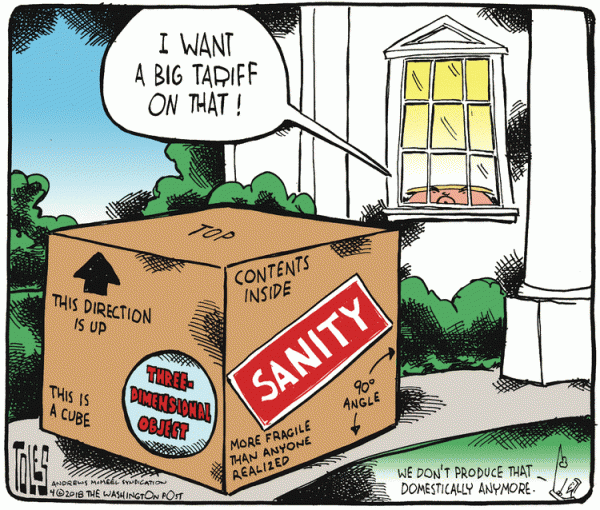 At the Trump Occupancy, the bags of flaming dog poo are *inside* the house. From the Washington Post, "'A bomb on Trump's front porch': FBI's Cohen raids hit home for the president":
President Trump has howled in all caps for nearly a year as the Justice Department has delved deeper and deeper into his orbit…

But the FBI's seizure on Monday of privileged communications between Trump and his private lawyer, Michael D. Cohen — as well as documents related to a $130,000 payment to Stormy Daniels, the adult-film actress who has alleged a sexual affair with Trump — was a particularly extraordinary move that opens a whole new front in the converging legal battles ensnaring the administration.

Cohen is Trump's virtual vault — the keeper of his secrets, from his business deals to his personal affairs — and the executor of his wishes…

The president spent much of Monday afternoon glued to the television. Aides said Trump watched cable news coverage of surprise raids on Cohen's Manhattan office, home and hotel room by FBI agents, who took the lawyer's computer, phone and personal financial records after a referral from Mueller.

As the sun began to fall in Washington, Trump offered reporters his initial reaction: "It's a disgraceful situation."

"I have this witch hunt constantly going on," Trump said. "That is a whole new level of unfairness," he added, leaving no doubt that he views Monday's actions as a personal affront. Trump called Cohen "a good man" and went on to criticize Attorney General Jeff Sessions, saying he had made "a very terrible mistake for the country" by recusing himself from the Russia probe.

Asked why he had not fired Mueller, Trump left the door open. "We'll see what happens," he told reporters. "Many people have said, 'You should fire him,' " the president added…
"Many people have said" — such as?
Question from a political source: "Why do reporters keep asking/goading Trump to fire Mueller?"

It's a good question.

— Julia Ioffe (@juliaioffe) April 10, 2018
Of course:
Trump air-thanked Fox News Radio reporter for question on firing Mueller: https://t.co/bzwKm8ocQY

— ErikWemple (@ErikWemple) April 10, 2018
Oh, look who's back in the press room!…
People are running out of modern vulgarities to describe the president's state of mind — gonna have to resort to quaint archaisms like 'has the vapors' https://t.co/YVznyGFlO2

— Glenn Thrush (@GlennThrush) April 11, 2018
Everytime a reporter discusses firing Mueller like that's a legitimate chess move for Trump, imagine instead they are very seriously asking whether the POTUS will choose to go pantless for summer, an equally reasonable choice that is his to make.

— Schooley (@Rschooley) April 10, 2018
Imagine a world where journalists didn't blithely prompt the president to undermine the rule of law every time they met him. I'd like to live there. https://t.co/4FFsIEy6Zi

— southpaw (@nycsouthpaw) April 9, 2018
Trump hosting Ryan, McCarthy, McConnell & Cornyn for dinner tomorrow night. To be a fly on the wall!

— Scott Wong (@scottwongDC) April 11, 2018