What's your addiction? Is it money? Is it girls? Is it weed?
I've been afflicted by not one, not two, but all three.
Ahh, McSuderman:
No Republican was more vociferously opposed to the build up of public debt than Rep. Paul Ryan, the GOP speaker of the House who announced this morning that he would not run for reelection. For years, Ryan has served as the frontman for the GOP's fiscal crusades, a role that helped elevate him into the upper echelons of party leadership.

Ryan repeatedly lambasted the fiscal policies of President Obama and the Democratic party. He charged that Obama "dodged the tough choices necessary to confront the threat of runaway federal spending," and criticized the president for ignoring the recommendations of the bipartisan fiscal commission that he helped create. Under Obama, Ryan said in a 2011 op-ed, "Democrats have simply done away with serious budgeting altogether." Ryan was serious about the deficit. Obama and the Democrats were not.
Repeat after me. Paul Ryan was never fucking serious about the budget. Let me clarify- he was never serious about deficit and debt. He may have talked all the time about them, but that's the "confidence" in con artist part (I haven't seen it in years, but House of Games is my favorite con artist film, from before when Mamet lost his shit. I wonder how it has aged.) They talk and talk and talk, and while they are talking, they are reaching into your back pocket.
Paul Ryan was serious about the budget in one sense- in shifting who benefited. He didn't care about the overall size, he just wanted to take from the untermensch and give to the noble Randian superclass. That's why he didn't so much as flinch pushing the Trump tax giveaway, but had to be pulled over broken glass to reauthorize CHIP (even though it saved money in the long term) because it meant his precious going to the poors.
Democrats, to be sure, have not exactly been icons of limited government. But under Clinton, the deficit turned into a technical surplus. During his first term, discretionary spending actually dropped; it wasn't until the second term, with Republicans in control of Congress, that it began to increase again.
Stop right fucking there: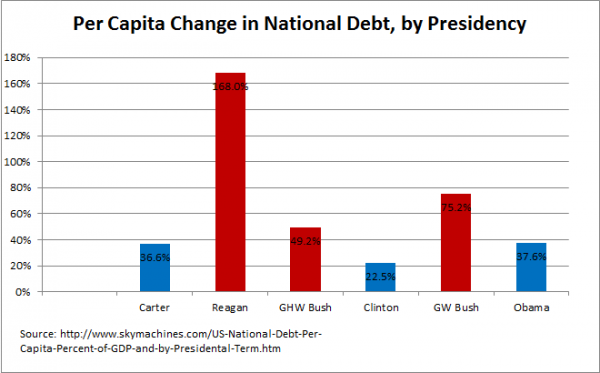 Fucking google something, McSuderman.
Deficits ballooned during President Obama's first term, and from day one of his presidency, Republicans were swift to blame Democrats for a lack of fiscal discipline. But the rapid increase actually started under Bush. Depending on how you run the numbers, it is possible to make the argument that most of the Obama-era deficits were caused by Bush-era policies.
NOT ONLY IS IT POSSIBLE, BUT IT IS THE ONLY WAY TO RUN THE NUMBERS. You might have heard of the crash of 2007 in between attending Arcade Fire fanfests.
Obama's second term was marked by still large but shrinking deficits that Republicans, since taking over, have grown again.Who ran congress during that period and what signature legislation was passed (and paid for) that helped lead to those shring When Paul Ryan noted that Obama ignored the recommendations of the bipartisan committee on fiscal responsibility, he was right. But what Ryan didn't say was that Ryan himself was on that committee—and he voted against its recommendations.
HE DOESN'T CARE ABOUT THE DEBT OR DEFICITS. HE CARES ABOUT WHO GETS THE MONEY YOU ASSHOLE.
I do not mean to suggest that Democrats are actually the party of good budgetary sense.
Fuck off.
In the long term, the largest drivers of the debt are Medicare and Social Security, and Democrats have, for the most part, been resistant to structural reforms.
No. Medicare and Social Security are fine and will be fine if YOU AND REPUBLICANS stop looting America, starting trillion dollar wars of choice, and spending 800 billion a fucking year on a bloated defense budget. And the only reason they want to "fix" both of them is because they want to privatize them, looting both for the benefit of their financial betters, which will no doubt make both of them worse and far more costly. But again, the actual cost is not what matters to Ryan. What matters is who gets the loot in this bust out.
Is there anything more addictive than the narrative that Democrats are bad for the economy and bad on fiscal matters?