Deep down, the lumpy orange shart-stain in the White House knows he's a worthless fraud. That's why he shrieks like a scalded skunk at real or perceived slights. The people around Trump — slugs hauled blinking into the sunlight from the soil beneath the scraped-away bottom of the Republican barrel — are even more acutely aware of Trump's deficiencies, but it's their job to puff him up.
Everyone in a malignant narcissist's orbit is conscripted into the battle to keep the narcissist's crippling insecurities at bay. In the case of Trump, even we citizens are drafted to serve as props and scolded when we don't go along with the ruse. Recall Kellyanne Conway bellowing in frustration, "Hashtag — he's your president too!" on national TV — the recurrent theme of virtually all of her mainstream media appearances.
But perhaps no one's job description is as straightforwardly about Trump-fluffery as that of Sarah Huckabee Sanders, who is trotted out each weekday afternoon to publicly polish the turd that is the Trump administration. It's a tough job, and Huckabee Sanders does it poorly.
Her guiding principle on the job seems to be to find examples of Trump's predecessors doing a thing and then paint a portrait of Trump doing something similar to that thing, and then present the following conclusion with a triumphant flourish: "See? This is TOO a normal presidency!"
But Huckabee Sanders is so very bad at it. For example, remember this iconic photo of Obama and his team monitoring the bin Laden raid?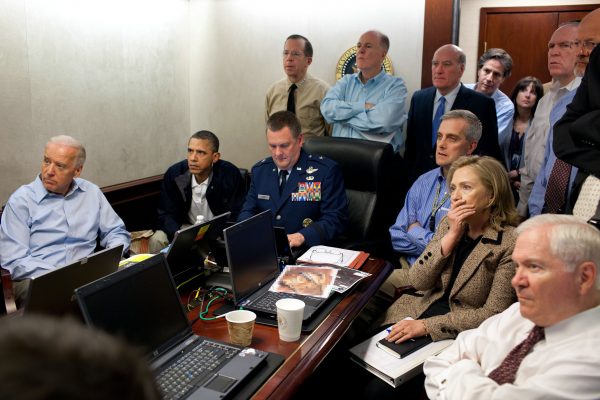 In a tweet last night, Huckabee Sanders was trying to spin the Shitgibbon's recent courtesy bombing in Syria as a foreign policy masterstroke, taking a shot at President Obama while simultaneously attempting to evoke the drama and import of the photo above:
Last night the President put our adversaries on notice: when he draws a red line he enforces it. (Inside the Situation Room as President is briefed on Syria – Official WH photos by Shealah Craighead) pic.twitter.com/GzOSejdqQh

— Sarah Sanders (@PressSec) April 15, 2018
As all of non-MAGAt Twitter immediately pointed out, the implied timeline is bogus since Pence is in Peru, but even if he weren't, there's nothing remotely reassuring about seeing these clowns in the Situation Room. The inept press shop probably had to crop John Kelly out because he was face-palming again.
Anyhoo, no newsflash or moral of the story here: the lying liars are lying again, and they're doing it badly. This will be the status quo until the whole rotten crew is ejected from power, and please FSM, let that day come soon.
On to more pleasant topics: Today, I am making another birthday cake with a Shrek theme — this time, "Donkey" is the featured character. I will share the results by and by.
We're also supposed to cook out later because the Shrek fan's favorite entree is grilled steak, but a humongous storm is making its way across the Gulf, so I have a feeling we'll have to move the festivities indoors.
Please feel free to discuss whatever — open thread!