Alexandre Bissonnette, the Canadian extreme right terrorist who attacked a Quebec City Mosque last year,was radicalized by a who's who of American right wing thought leaders. Andy Riga from the Montreal Gazette has the details: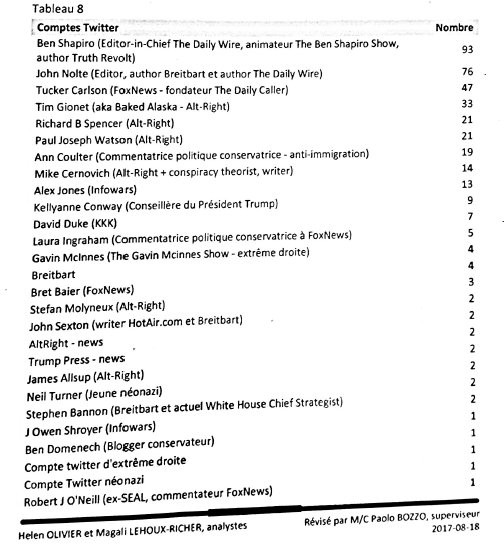 When will Ben Shapiro's rabbi make a statement about how Bissonnette's actions are unacceptable and that the speech of his congregant, Shapiro, is also outside the acceptable bounds of Modern Orthodox Judaism? How about John Nolte's, Tucker Carlson's, Ann Coulter's, Kellyanne Conway's, Laura Ingraham's, Bret Baier's, Stefan Molyneux's, John Sexton's, James Allsup's, Neil Turner's, Stephen Bannon's, Ben Domenech's, or Robert O'Neill's priests or ministers or pastors make a statement that Bissonnette's actions are unacceptable and that the speech of their congregants listed above are outside the acceptable bounds of Roman Catholicism or whatever version of Protestantism these fine, Christian souls practice? When will Breitbart's or The Federalist's or Fox News's or Breitbart's or Hot Air's publishers and funders denounce their employees speech and its consequences?
If every Muslim has to denounce every act of terrorism done in the name of Islam, at the very least the spiritual leaders and employers and financial patrons of these enablers and promoters of anti-Muslim terrorism should have to do the same!
Free speech, especially the most controversial and inflammatory speech, is and should continue to be protected. That does NOT, however, mean that engaging in that speech doesn't come with a price. The hatred, the vitriol, the bigotry, the extremism that these speakers and commenters and authors spew is rightly protected. Those protections do NOT absolve them of the responsibility for the all too predictable outcome of that speech.
Stay toasty!
Open thread.