A depressing thought occurred to me recently. Those of us who experienced the 2016 election as a national and personal trauma could be forever doomed to live with the mysteries and what-ifs associated with it, in the same way my parents' generation is still haunted by the Kennedy assassination and the horrors that unfolded from that.
Am I being a drama llama to compare the two events — an assassination and a fucked-up election? Possibly. In 1963, a sitting president was murdered — a shockingly violent act. The violence associated with the 2016 election has thus far been indirect and mostly out of sight: people dying of treatable diseases, hurricane victims left to fend for themselves, people brutalized by emboldened rogue cops, folks murdered by re-energized white supremacists, etc.
In the future, the 2016 election's body count may very well be increased by women who die from back alley abortions, children silently poisoned by polluted water and air, cities drowned by rising seas, a higher suicide rate among LBGTQ youth and victims of a war John Bolton is itching to start. Horrific results are already here, and more definitely await us; only the magnitude is in question.
James Comey's current halo-polishing tour inspired this depressing line of thought, specifically his struggle to explain his decision to insert himself into the election at critical inflection points, which arguably set the current nightmare into motion.
Among Comey's rationales was his perceived need to counter Russian bullshit about Loretta Lynch controlling himself and the FBI on Clinton's behalf. So, Comey was the biggest fly by far caught in the "fake news" web Putin's operatives spun. We'll live with the consequences of that, one way or another, for the rest of our days.
Maybe that's why I've felt compelled to watch the bastard's "aw shucks, I'm just a big ol' Boy Scout" book tour. It's horrifying and fascinating to watch him explain why he did what he did — kinda like watching the Zapruder film. You know the outcome is catastrophic. But you watch it anyway, wondering how things might have turned out differently, marveling that so much turned on such insignificant things, like one man's massive ego.
Eh, fuck it — let's watch something more pleasant, like these birds on my hanging feeder. They're house finches, maybe?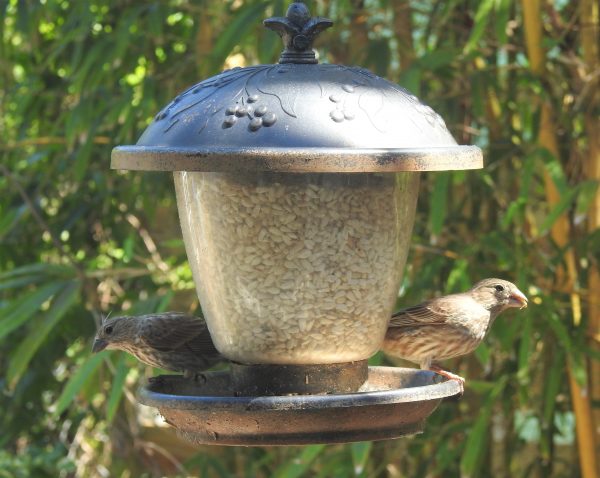 That feeder hangs from a tree and is located about four feet from the window where my my workstation is. When we have high winds like we did the other day, I take the feeder down because I'm afraid it will start swinging hard enough to bust through my window — possibly with squirrels attached to it, which would obviously result in chaos.
Anyhoo, open thread?