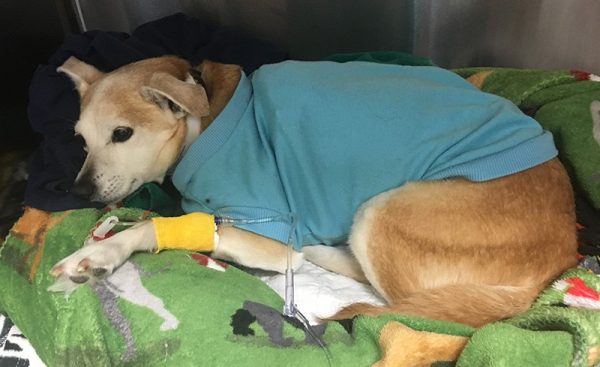 Sorry about the bluntness of the headline, but I didn't want to beat around the bush with what is ultimately just horrible and heartbreaking news. I just went up and visited Lily and spent a half hour in a consult with the Doctor (again, I can not say enough wonderful things about the doctors at the PVSEC– they're really professionals), and she is just not doing very well at all and it does not look like there are any good options.
I've been crying for three hours and I had to stop four times on the ride home to pull over, so I will try to be as thorough as I can to explain what is going on. Yesterday afternoon after I left, she was given a blood transusion because her platelet count was virtually non-existent and rbc count was around 13. She is not being sedated, and this morning her RBC had rebounded to about 25, but her platelet count has not increased at all (and would not for some time were she to recover- it takes weeks for that). She had an ultrasound this morning, and none of the news is good.
Her liver is enlargened to twice to three times the size of a normal liver and is extending past her rib cage, and the surface looks abnormal. Her stomach and GI are thickened and also abnormal. She also has fluid in her chest/stomach cavity.
The doctor believes that she has cancer, but she can not actually make an absolute determination, because Lily's platelet count is so low that if they so much as test the liver, she could bleed out. Even if they could make the determination that it is cancer, she is so weak that treatment is not really practical or feasible. The only real thing we could do is to try to extract some of the fluid and see if we could make a determination from that sample.
Unfortunately, the fluid is blood. Basically, there isn't much that can be done for her, and the only real option is euthanasia. There are other options- we could have a CT scan, but then all that would show up is a non-operable tumor, because since her platelet counts are so low she would bleed out. Likewise, they could do a surgical procedure to investigate and determine the cause, but that might kill her, and even if they found the cause, they could not do much to help her.
It's just shit all the way around. I asked the doctor what she would do were it her dog, and she said that surgery is out of the question, and she would be hard pressed to do the CT scan because if she found anything, she probably would not wake the dog up from the anesthesia because there is nothing that can be done.
Basically, I know what has to happen, the doctor knows what needs to happen, I was just not emotionally prepared to make the call today. Bringing her home and enjoying a few more days really is not an option either, because her platelet count is so low she is already at great risk of decompensate rather quickly, which is basically a sanitized way of stating she could just suddenly hemorrhage and exsanguinate, which is something I am not willing to risk nor something I would ever put her through.
When I went to visit her, she was not sedated, and barely even registered that I was there. She feels as if she has lost weight since yesterday, and barely has the strength to hold her head up. I held her for fifteen minutes and told her I loved her and cried, and then left before I decompensated in front of everyone.
I spoke with the doctor on the ride home, and they are going to keep her overnight because I can not risk taking her home tonight and having something happen to her leading to a painful and awful demise, and barring a miraculous recovery, I am going to pick her up tomorrow, spend a few hours with her and then go to my friend and vet Harry's and put her to sleep. I'm devastated and sick to my stomach, but I know it is the right thing to do. I'm so sorry for all of you who love her like your own, but it just doesn't look like there is anything that can be done.
I'm just crushed. She was doing the play boy and prancing around just last week, and this is all so sudden (which the doctor said happens all the time).
I doubt I will never love anything as much as I love Lily and I just don't have words to describe how broken I am right now.