Apparently Lily has her own damned agenda and we're just going to have to work around it: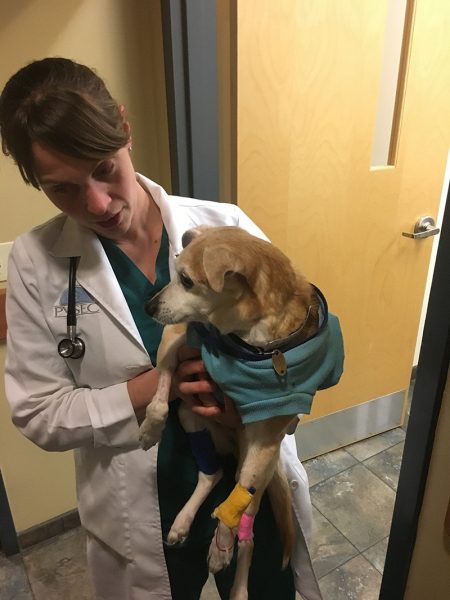 I woke up this morning fully expecting today to be one of the worst days of my life. I drove to the big city to pick up Tammy and Samantha so there would be someone safe driving afterwards because I knew I would be a hot mess, and we drove up to the hospital together. It was a very quiet, unpleasant ride.
When I got there, I went to the desk and said that I was there to pick up Lily, talk to the doctor, and settle my bill, and the lady at the counter told me that "Oh, the Dr. has been waiting to see you. She wants to talk to you." I'm in a pretty volatile and fragile state at the moment (one bonus- when you cry for 72 hours straight, you can lay off the Zyrtec cuz there just isn't anything in the sinuses to cause you a problem), and all I could think was that Lily had passed and they wanted to tell me in person.
It was the busiest I had seen the place, and we had to wait for about 25-30 minutes, and man is that agonizing. You're just waiting to hear the worst, all the while watching some people happily reunited with their beloved pet and others shuffling out looking like I did yesterday. Every minute is an eternity.
Eventually, I heard them say Lily, and I looked up, and there the doctor was, carrying her around like it was no big deal. We went back into the consulting room, with her carrying Lily like a baby (which is exactly how I carry her everywhere), sat down, and the doctor basically told me that things have changed since yesterday.
The change was obvious- yesterday, she would not even get out of her crate, and I had to pick her up and she was just limp with her head sort of dangling around. Today, she was alert, awake, recognized me, her nose was wet and cold, and the doctor said that she went for a walk and has been eating and drinking and is doing well, considering. While we were there, the Doctor said she was going to go get a snack, and brought back a half a 16 ounce can of food on a paper plate, and Lily inhaled it: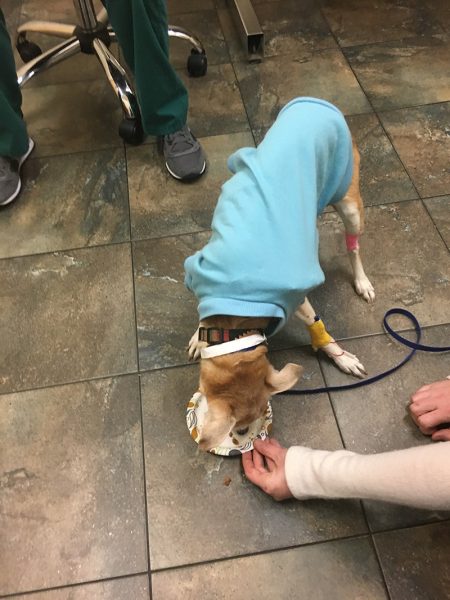 From a diagnostic standpoint, they were very upfront that they just don't know what exactly is going on. Dr. Dickinson (the women pictured above with Lily consulted with Dr. Jett, yesterday's physician), and the phrases "she's not playing by the book" and "she's acting like a cat" were uttered a few times. Her platelet count is still negligible, but her red blood cell count, which was 20 on Tuesday, 13 on Wednesday, low's 20's yesterday after the transfusion, was now 29. So that is moving in the right direction. If it is the IPT they initially thought and not cancer, they don't expect her platelets to start recovering for a while- small changes after a week. This is only the 4th day of treatment with steroids, so maybe something will start to get better.
I asked about the results of the sonogram that showed the liver being so large, but the bloodwork shows it is functioning and this Dr. stated it may just be because she is old. Additionally, the fluid (later determined to be blood) they found in her cavity has decreased significantly.
What does this all mean? Well, we all agreed that nothing conclusive came out of today. She had a good day. She could just as easily have a bad day tomorrow and we might be right back where we were yesterday or worse. But it does mean that all of us agreed that putting her down right now is simply not an option. The doctor said I could take her home and continue the steroid therapy there and check on her, and I declined. I made the choice to keep her overnight, go up tomorrow and check again, and if she is improving keep her there on Sunday, rinse and repeat. It was an easy choice- obviously I want her with me, but my obligation to her requires that if she is fighting, I do everything I can to help her. If she is not giving up, I'll be damned if I am. The eating and drinking is really the most positive thing.
It needs to be recognized- Lily is still a very sick dog. I am as clear-eyed about this as can be possible. I was fully prepared to be sobbing in front of the keyboard writing a remembrance right now, and I am fully prepared for things to take a turn for the worse overnight. But a good day is a good day, and you string a few of those together and who knows what happens.
And now I am tearing up because of you all. The bill to date is about $3800.00, and it is going to probably cost about 500 a night to keep her for however many nights are necessary. You glorious bastards took care of the current bill, and have paid for at least two nights, more if the doc's estimate was wrong. I don't know what kind of words you say to the people who are helping you perhaps save your dog's life, but thank you.
So that's where we are now. Positive, but anything can happen, and I will deal with that should it come to it. She apparently looks like one of the Doctor's former dog Honeydew, so she is getting lots of attention and rubs and treats from the staff. Here's another picture of Lily on Tammy's lap:
Cross your fingers. I guess the best way to put it is that nothing has really changed but everything has changed.