Hi- sorry for the late update, but it was a long day. First, a picture of our girl: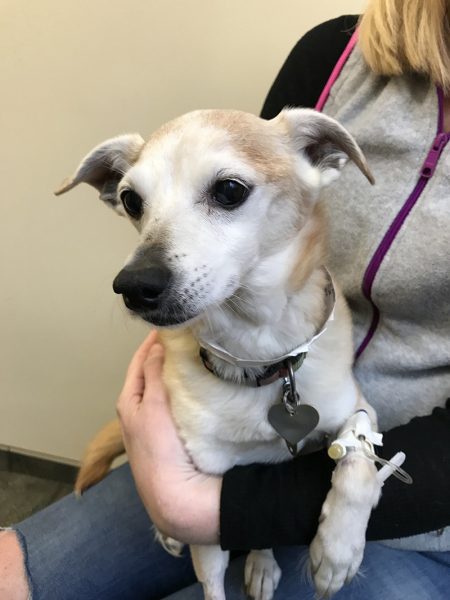 Tammy and I left this morning around 10:30 or so and we met my sister, Devon, at the hospital around noon (Let's pause for a second- am I the luckiest guy in the world to have a best friend like Tammy? The answer is yes. I don't know what I would do without her.) We went in, waited a brief bit, and went back into the consultation room with Lily and Dr. Dickinison (again, I totally adore her. She's just such a genuinely nice person, and it's not just because she's trying to save Lily- she just has an air of kindness about her). Dr. Dickinson said that she had some good news and some "not so good" news, and it was a "mixed bag.".
First, the good news. Lily is apparently a super trooper and her platelet count has rebounded to about 60k, which is still sub optimal, but it's not 2 or 6, which it was the past few days. Additionally, her red blood cell count increased again to about 33, and she is eating, drinking, walking, pooping, pottying, alert, and sleeping well. As you can see in the photograph, she is no longer wearing the shirt they gave her the other day, and the shirt was there for the telemetry monitor, meaning her vitals are stable enough that they don't need to constantly monitor it.
Now for the not so good news- we have a diagnosis. Dr. Dickinson found a tumor in her neck, was able to get a sample, and it appears Lily has lymphoma. And while I think we can all agree that is not good news, I was feeling rather optimistic when she told me that and blurted out something to the effect of "I actually think that is good news, because now we know what we are dealing with and can treat it." I made sure to ask the doctor if it was reasonable to progress with treatment, and she said yes, absolutely, she has seen so many dogs rebound and have a lot of good time.
So we started today. She received a round of chemotherapy, and tomorrow, if her platelets continue to increase and the Doctor feels good about her condition, I will bring her home, go back on Monday for a consult with the endocrinologist (the same doctor who saved my brother's dog, Ellie). The next few weeks are critical, because Lily might respond poorly to the treatments, but again, the doctor thinks given the amount of fight and resilience she has shown so far, this is the only reasonable course of action. I concur. The only other option is to give up.
From a realistic standpoint, there is no way to sugarcoat things- this diagnosis or something that comes from this diagnosis will be what eventually gets Lily. But the doctor feels that there is a very good chance we can knock it into remission, and Lily can get a good half year, year, or more with a good quality of life. Given the alternative, I think that is great news. The next couple of weeks are critical, though. If she doesn't respond to the chemo, or should any of the number of bad "if's" come to pass, I will have horrible decisions to make. But we have hope.
***
We always talk about how animals make us better people. This has definitely been the case for me and Lily. Not only was she been there for me for so much- the year and a half of hell when I was going through panic attacks and sheer misery before being diagnosed with a generalized anxiety disorder and getting treatment, the shoulder injury and recovery (which, to be fair, she played a slight role in causing), dad's heart attack, the alcoholism, the untimely demise of Tunch, and so many other major things but also the very mundane and minor things, when you just have a bad day and she is there for me to cheer me up. I've also loved this dog more than anything I have ever loved anything, with more intensity and unconditionally. She's made me less cynical.
And even now, she is making me a better person. I don't know if it has shown in my writing the past few days, but since I took her to the vet on Tuesday and got the first inclination that something was very wrong, every single hour of every single day, with each twist and turn, the stress and anxiety were just building and building and mounting and mounting until yesterday, before I got the better news, I was the most fragile and volatile I have ever been in my life. Again, yesterday, my entire mindset was to pick Lily up, spend a few good hours with her, and then put her to sleep. Waiting for the Doctor yesterday, I was as close to spontaneously combusting as I have ever been in my life. I couldn't feel my hands, I was losing my peripheral vision- if you hooked me up to the power grid I could have lit up the entire damned state I was so amped up.
But then Lily and Dr. Dickinson gave me hope. For cynical pricks like much, hope is such a clichéd thing. I remember when I was in the army, and one of us privates would say something to the effect of "I hope" or "I wish" and my platoon sergeant would respond "Ok, fucking Cole, how 'bout you hope in one hand and shit in the other and tell me which one fills up first." Yeah. Mind you, I don't try to crush other people's hopes, because I'm not a sociopath, but I've also always been the person who would privately think "well yeah, sure, that'd be great, but it's not going to happen," and in the off chance it did, I'd be pleasantly surprised. That's what y'all are dealing with.
Until now. Even now, potentially on her deathbed, my special girl is making me a better person. I've seen what hope can do in just a few short hours. I slept last night for nine hours. I ate. There was a spring in my step immediately after meeting with the doctor yesterday, and even with the news today, I'm positive. I've got hope, and that's something.
So that's where we are now.