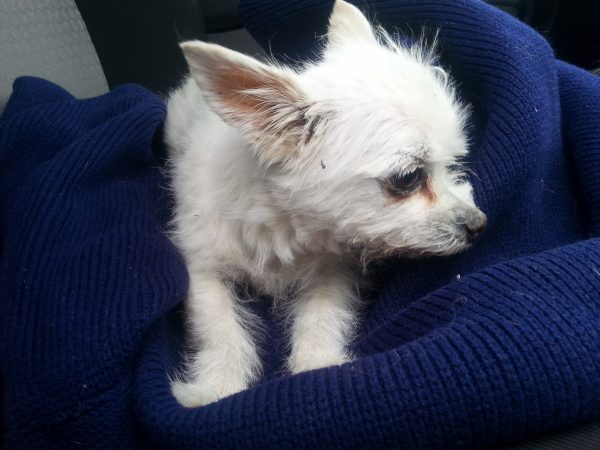 I found this little guy walking in the rain not far from my house yesterday. Weighed all of 3-4 lbs, wet.  No tags, no chip, no idea where he came from, I let him sleep in my car (wrapped in a blanket sitting atop a puppy pad) all day while we searched for his owners. I thought it was less stressful than a crate and/or bringing him anywhere near my  pups. It was warm enough that I wasn't worried about him.
I let the Humane Society know I had him, put notices on the local message boards, drove around the neighborhood. Around 5 pm the HS called and asked me to bring him in for intake and I agreed. I'd felt like I ran out of options and he really couldn't stay with me overnight,  but told them to call me if no one claimed him.
He was a little grumpy old man – my guess part terrier, part Chihuahua – but sweet as could be.
Around midnight last night got a message from the neighborhood message board about a missing dog. It was him. They were successfully reunited this morning.
Happy ending. I on the other hand got absolutely NOTHING done yesterday.
Open thread