Got to the vet at noon as planned, and immediately went into a consultation room to wait for Dr. Dickinson, because today was a big day from a blood test numbers standpoint. Dr. Dickinson (who I already told you is just AMAZING and whom I am so clearly in love with that Tammy is disgusted with me every time I talk about her and rolls her eyes- "Really Cole, can you try to control yourself?") has a lot of wonderful aspects, but she does NOT have a poker face at all. When she came in carrying Lily, she was just beaming so I knew it was good news.
According to the doctor, her red blood cell count is improving and at 33, and her platelet count is up to 160k. If you remember, her platelet count didn't even register on Tuesday at my vet's, on Wednesday and Thursday were at virtually nonexistent (I think they were 2 and 4), and normal is 200k. So far, she is showing no side effects from the chemo, is still eating, drinking, pooping, peeing, etc., and was perky and alert. In fact, as soon as Dr. Dickinson put her on the floor, she lay down with her back legs flayed (we call it froggy dog) and her front paws crossed (because she is a lady). She wasn't on the floor for long because a fat man scooped her up: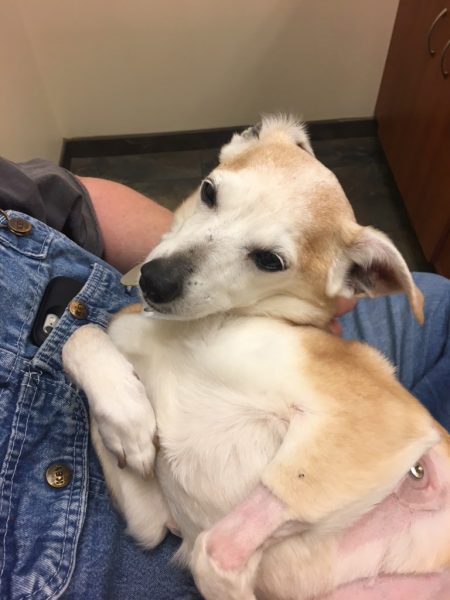 I can't tell you how much better she is acting. She's alert, perky, much more like her normal self. Again, we're in a critical phase and all this could change, but dogs live in the here and now and so am I, and for the short term she is doing really well. Dr. Dickinson stated that she has met every criteria she needed to see and did not hesitate to send her home.
We were originally supposed to see the oncologist tomorrow for a consultation and to discuss the longer term treatment, but since she is not going to get any more chemo for another week anyway and is going to be on the prednisone for the next week, there is really no reason, so we will be going a week from Monday to see the doctor. So right now it is all on me and Lily- she's got to keep eating, resting, drinking, pooping, and fighting, and I have to keep on top of her and make sure she gets her meds and is treated like the queen that she is. Here are some great picks from the ride home: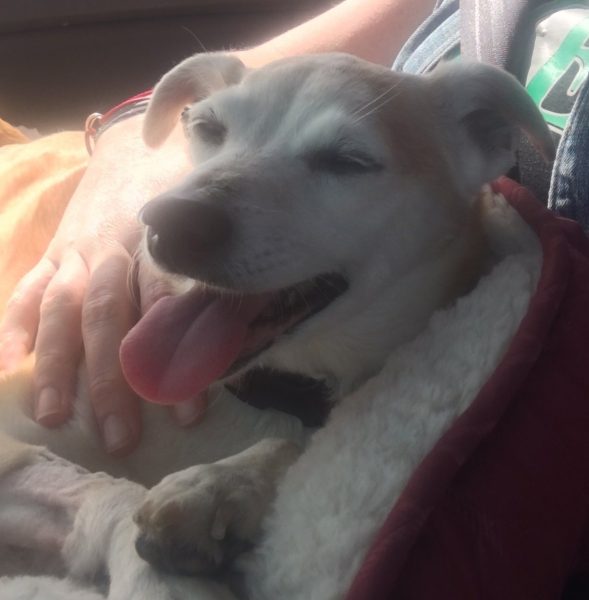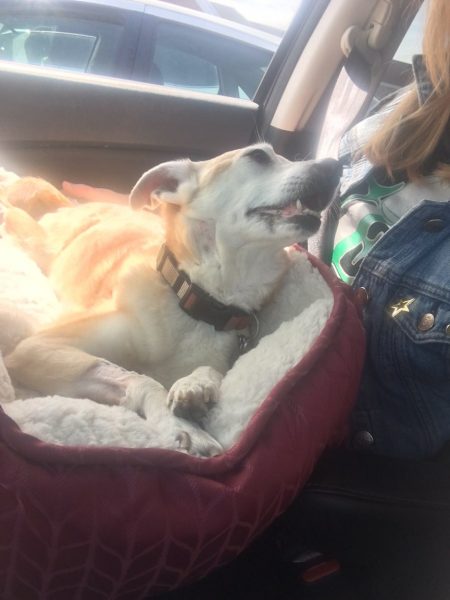 I love how she is looking at Tammy in that picture. And this picture is amazing: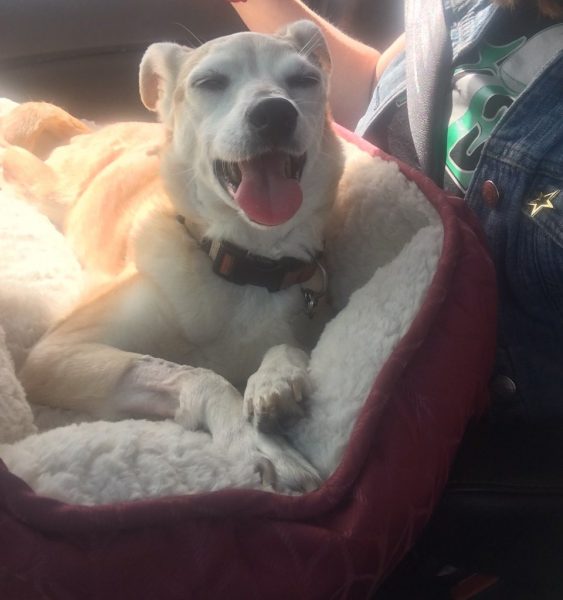 When we got home, we put her in the grass in the front and she immediately took a long potty break, and then walked around and sniffed a bit. She came inside, everybody sniffed each other for a bit, and she pranced around the house and was clearly excited to be home. After a little bit, she went upstairs to her dog bed in my office, where she perched for a little bit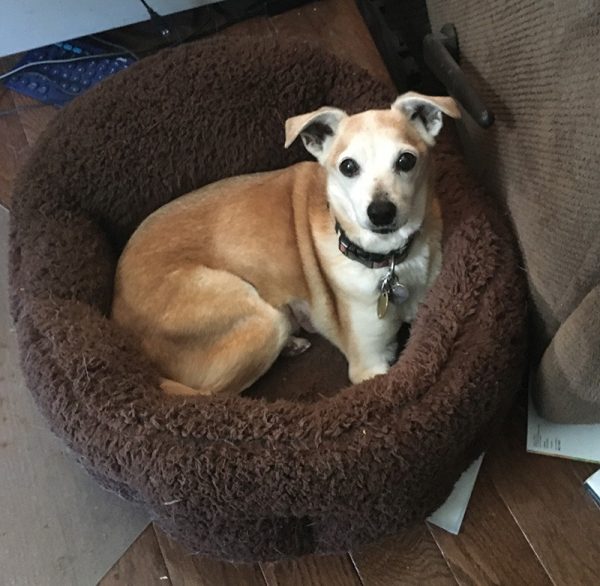 Someone may or may not be have been handfeeding her pieces of meat every few seconds. So, we're home, and we're both exhausted (I can hear her snoring behind me as I type this- the other picture was from about ten minutes ago), and I think we are both going to take a well deserved nap.
I'm just so relieved and happy and grateful and still concerned, but mostly just happy. My girl is home. I'm going to let Tammy tell Thurston his battlefield promotion didn't go through.