Looks like Rear Admiral Doctor Ronny Jackson may have erred in inviting the kind of scrutiny no mere physician to the powerful usually encounters:
Republicans and Democrats on the Senate Veterans Affairs Committee are raising concerns about allegations involving Rear Adm. Ronny Jackson, President Donald Trump's nominee to lead the department of Veterans Affairs and are reviewing them to determine if they are substantial enough to upend his nomination.
Committee members have been told about allegations related to improper conduct in various stages of his career, two sources said.
No further details are out yet, beyond the characterization that these are "some fairly raw allegations," as Sen. Richard Blumenthal (D-CT) put it.  Pure speculation here, but to my ears this has the ring of #MeToo about it.*
This is clearly not what R. Adm. Jackson anticipated when he too the fatal step of accepting anything from Donald Trump.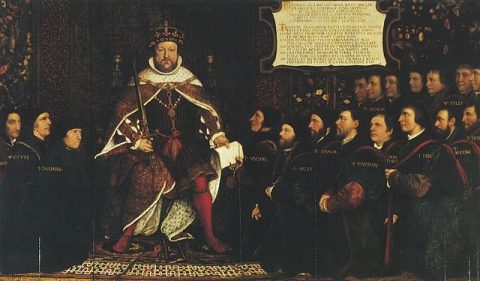 No sympathy for him: he did what he did, and he willing chose to pursue a post for which he was clearly ill-placed to fill.   Any sane person would realize the move would bring his conduct under scrutiny.  If bad things are about to rain down on him…well, welcome to the major leagues, son.
But it is also a reminder: Trump diminishes every single person who touches him.
Open Thread.
*Update: It appears it may be workplace issues other than sexual harassment. Memo-to-self: when you don't know, you don't know.
Image: Hans Holbein, Henry VIII and the Barber-Surgeons c. 1543 with later alterations.