Here's a non-state dinner happening outside my window this morning: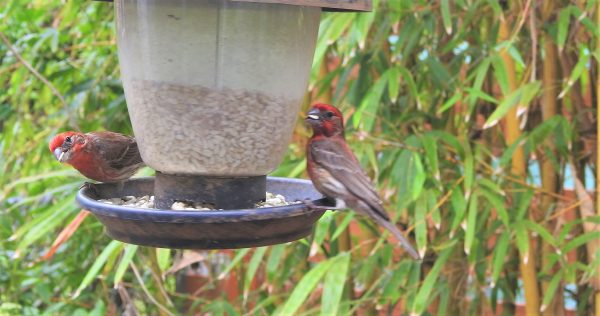 Don't you hate it when someone takes a picture right when you're shoving a big piece of food into your mouth? Happens to me all the time. Sorry, birds.
Anyhoo, French President Emmanuel Macron arrives in DC today for the first state visit of the Trump administrophe. There's a state dinner tomorrow to which no Democrats were invited. Fox News personalities will likely be on hand to manage policy discussions.
Via ABC News, Nicholas Dungan, senior fellow at the Atlantic Council and a professor at Paris-based institute Sciences Po, said:
"Emmanuel Macron has characteristics that are more classically American than French. He is professional, rigorous and understands the value of work."
I wonder what the French would make of that characterization? Regardless of how "classically American" those characteristics allegedly are, the orange fart cloud does not possess them. He embodies the polar opposite of them.
So, how will Trump embarrass us during this state visit? Will he do the weird handshake thing again? Leer inappropriately at Brigitte Macron and tell her she looks great "for her age?" Or strike out in a new direction and blaze fresh trails in national humiliation?
In other news, the naked white guy who shot and killed four people at a Waffle House in Tennessee is still on the run. A diner, James Shaw Jr., rushed the shooter and disarmed him, almost certainly preventing further carnage. Unlike in the aftermath of the Texas church massacre, Trump hasn't tweeted about this hero, probably because Shaw was an unarmed black man, and thus doesn't fit the narrative.
It turns out the shooter had a history of psychiatric problems and had no business owning a gun of any type, let alone an AR-15. Authorities took his guns when he approached the White House some months ago babbling about meeting with Trump. The authorities gave the guns to the suspect's father, who returned them to the nutjob son. It probably wasn't even illegal to do so.
And now four young people are dead for no reason. Damn, this is a fucked up country.
Open thread!
ETA: I have been reliably informed that there WILL be a Democrat at the state dinner: Louisiana Governor John Bel Edwards. No Democrats from Congress though, which is unprecedented in modern presidencies, or so I read.