There are three major styles of claims based risk adjustment systems. Some systems use only diagnosis information to slot a claim into a risk group. Most systems use diagnosis information. If a specific code is on a claim, the person is placed into the risk group. Some systems only use pharmacy claims where specific National Drug Code (NDC) number corresponds to a risk group. If a person picks up a prescription of a specific NDC, they get slotted into a risk group. Finally there are hybrid systems that use both diagnosis and prescription data.
Milliman looks at the challenge of pharmacy based risk adjustment in the context of the shift of opioid addiction harm mitigation and minimization efforts for the CDPS Dx/Rx risk adjustment model. They raise a very astute point about how risk adjustment lags clinical practice changes.
Diagnosis based systems suffer from severe lag from when a service was performed and when the claim could be processed. Claims are not settled for at least six to nine months after the date of service. Diagnosis is specific. A diagnosis will indicate Type 2 diabetes with or without complications which will drive their own score that drives a monetary transfer.
Pharmacy based systems are fast. Almost all pharmacy is point of sale claims processing. The big challenge with pharmacy based risk adjustment is that very few drugs have only a single use. For instance, oral hormonal contraception have a predominant use of preventing pregnancies but they are also used for a number of other medically valid reasons.
Hybrid systems like the CDPS MRx use both diagnosis and pharmacy data to drive a risk score. I optimized the UPMC Medicaid risk adjustment process for this model. It tended to award higher scores for diagnosis while a pharmacy claim slotted someone in as low as possible in a general category as pharmacy claims covered a much wider array of conditions than a specific diagnosis.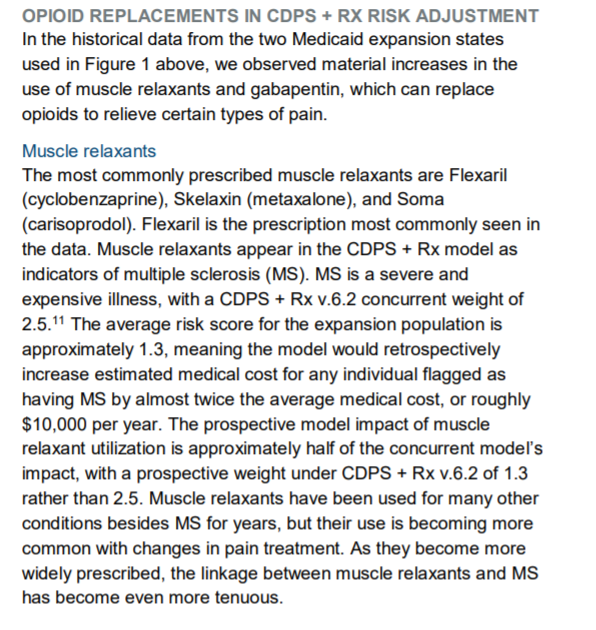 Over the past several years, physicians, hospital systems and insurers have all been trying to reduce opioid prescribing through a variety of means in order to minimize the number of additional people who will become addicted to an opioid. This means people who previously would have been prescribed an opioid are getting prescribed either non-pharmaceutical treatments or alternative non-opioid prescription drugs.
Some of the drugs in the model are used to trigger a multiple schelerosis diagnosis. That is an expensive disease so it is a significant increase in scored morbidity. There are a few important policy considerations that arise from this problem in the model's data lag.
First, most Medicaid programs use revenue neutral risk adjustment, just like the ACA uses revenue risk adjustment. If everyone's score increases by the same margin, no one gains or loses money. If there is a differential change in the risk scores that are solely driven by the opioid alternatives driving up MS scores, then some insurers will gain money that they really did not earn and some insurers would lose money that they "should" get.
The incentive in this situation is for a red queen race. Every insurer in revenue neutral risk adjustment where opioid alternatives can score increased risk adjustment payments should seek to maximize the number of people receiving opioid alternatives that score highly in other risk adjusted categories. If one insurer is doing this and no one else in the state/risk adjustment group, that insurer will get a lot of "free" risk adjustment money.
The second policy consideration is whether or not we want to intentionally use the fact that risk adjustment lags clinical reality as a fairly strong incentive for insurers to aggressively move people off of opioids and towards the prescribed alternatives? If the state uses revenue neutral risk adjustment, this policy had no direct monetary impact on the state but may lead to fewer people newly addicted to opioids.
Finally, a broader point needs to be raised. Most health insurance systems that require some type of guarantee issue and community rating needs risk adjustment to counter-act the cherry picking incentives every insurer faces. Every risk adjustment system is flawed. Diagnosis based systems have a significant lag between the event and data generation while pharmacy based systems have wider error bands due to the multiple indications most drugs can be used. The critical question is how much error should we tolerate, in what direction and to what purposes? And from there, how often do we need to update models to account for changes in clinical practice?
Milliman's deep dive on the CDPS MRx model showed a critical exploit that aggressive insurers using that model can use to generate millions of dollars of additional revenue that is not supported by the underlying claims. They also lead to several critical questions that we need to think about.