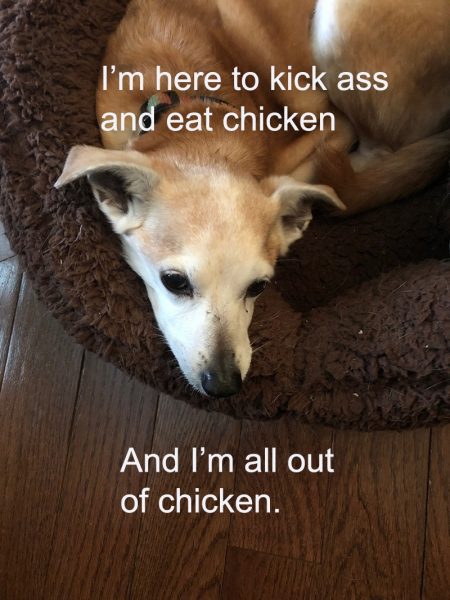 I had to leave for about five hours, and when I got back I was going to give Lily a snack. But because I am giving Lily a snack, I had to give Thurston and Rosie a snack as a distraction. I had a half a can of cooked chicken in the fridge from yesterday (the vets say they buy it by the ton at costco and give it to the dogs in recovery), and I opened another. The plan was to split the open can for Rosie and Thurston, and take the other can upstairs for Lily so she would not be pushed around (in bowls obviously, we're not fucking animals).
I went to put the bowls down, which requires some precision- "Rosie, here is your bowl," and then walk a few feet and say "Thurston here is yours" and then take Lily upstairs to feed her unmolested. No sooner did I have Rosie's bowl on the ground when the new boss bitch Lily elbowed her way past Rosie and basically inhaled the bowl in two gulps.
I still don't think Rosie knows what happened. I just stood there for a second thinking "Well, that was different." I picked up Lily, gave Rosie some more, then took Lily upstairs, gave her the entire can, and she ate every last drop and then drank the chicken juice out of the bowl.
So yeah, the steroids are giving her a good appetite.