The text of the Joint Declaration is here. One of the South Korean outlets had a nice summary, but they've dropped it in favor of the full text. There is a lot here, and every word requires interpretation.
But you can guess who isn't worried about the details.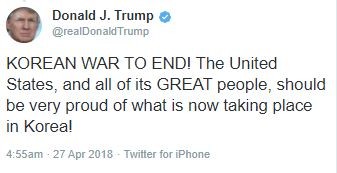 That was threaded to a tweet about lyin' James Comey leaking CLASSIFIED. Now that we have the audio, as in Anne's post, we can hear Trump's tweets in his anguished shout.
The dangerous thing here, of course, is that Trump thinks it's his bluster that made this happen. That means he will be eager to reimpose the sanctions on Iran and start threatening them with nuclear war. Buckle up.