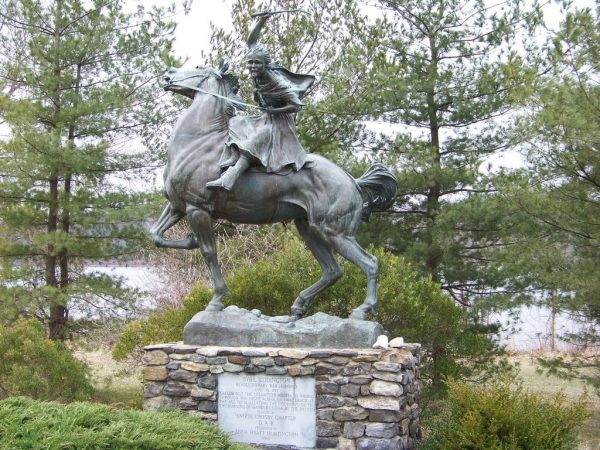 (Image 1: Sybil Ludington Monument)
Last night in 1777, 16 year old Sybil Ludington rode 40 miles to alert the American militia that the British had moved on Danbury, CT. Ludington was able to alert over 400 militia and she fended off an attack during her ride with her father's musket.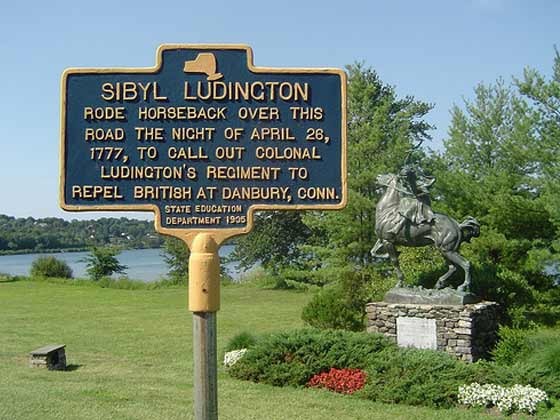 (Image 2: Sybil Ludington Historical Marker)
Ludington's ride was partially the result of her father being a colonel in the colonial militia:
On April 26, 1777, Colonel Ludington received word from a rider that the nearby town of Danbury was under attack by British troops and needed help. At the time, Ludington's regiment had disbanded for planting season, and his men were miles apart at their respective farms. With the rider too tired to continue and Colonel Ludington focused on preparing for battle, young Sybil rose to the cause. Some accounts say she volunteered; others that her father asked for her service, but either way, she rode through the night alerting the Colonel's men of the danger and urging them to return to the fight. She rode all night through dark woods and in the rain, covering anywhere from 20 to 40 miles (estimates vary). By the time she returned home, hundreds of soldiers were gathering to fight the British. Ludington's troops arrived too late to win the battle, though they did fight with departing British soldiers.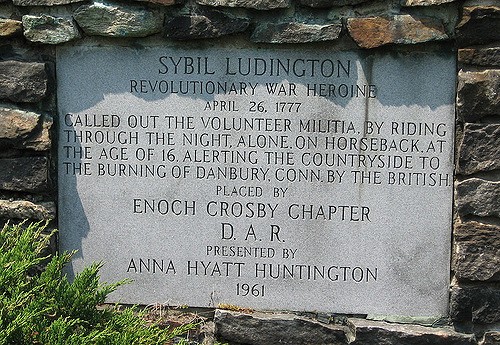 (Image 3: Close Up of the Base of the Ludington Monument)
… completed her mission around daybreak, covering nearly 40 miles—more than twice what Paul Revere had ridden—raising 400 men, and even fighting off a highway man with her father's musket. The militia caught up with the retreating British and beat them back, too late to stop the attack, but not too late to make them pay dearly.

Alexander Hamilton wrote Col. Ludington: "I congratulate you on the Danbury expedition. The stores destroyed have been purchased at a pretty high price to the enemy."

Sybil received personal thanks from both Gen. George Washington and Gen. Rochambeau, the French commander fighting with the Americans.

Colonel Henry Ludington's memoir claims:

"One who even now rides from Carmel to Cold Spring will find rugged and dangerous roads, with lonely stretches. Imagination only can picture what it was a century and a quarter ago, on a dark night, with reckless bands of "Cowboys" and "Skinners" abroad in the land. But the child performed her task, clinging to a man's saddle, and guiding her steed with only a hempen halter, as she rode through the night, bearing the news of the sack of Danbury. There is no extravagance in comparing her ride with that of Paul Revere and its midnight message. Nor was her errand less efficient than his. By daybreak, thanks to her daring, nearly the whole regiment was mustered before her father's house at Fredericksburgh."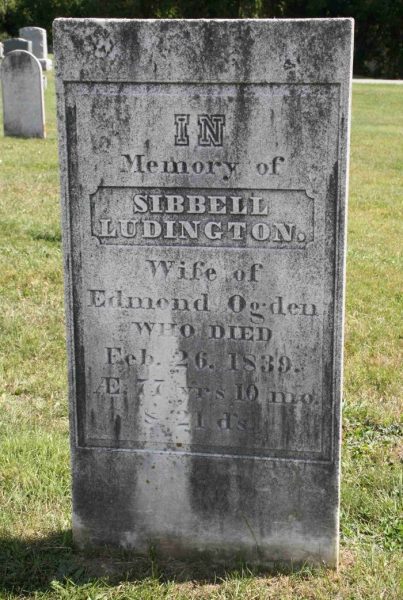 (Image 4: Sybil Luddington's Tombstone)
I think Ms. Luddington would be particularly touched that this happened on the 241st  anniversary of her ride:
#PantherFamily, we congratulate Capt. James Simpson on a successful command of C/1-508 and wish Capt. Shaye Haver well as she assumes command! pic.twitter.com/k9yag3FHSr

— 3rd Brigade Combat Team, 82nd Abn Div (@PantherBrigade) April 26, 2018
Yep, that's a Ranger tabbed woman taking command of an operational company in the 3rd Brigade Combat Team/82nd Airborne Division. That's progress!
H-Minus! & All the way!
Open thread!
(Sorry I was a day late on this, but things have been a wee bit busy…)