Lily and I arrived for our 11 am appointment promptly at 10:40, and while we were waiting this magnificent lapdog came in and made his presence known: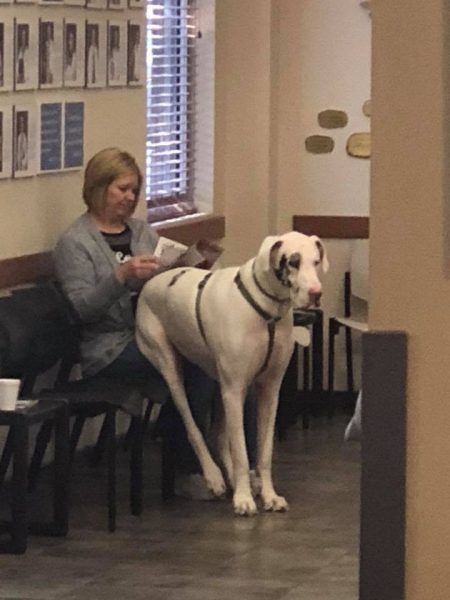 Any port in a storm, bro. Things took A LOT longer today than I thought. I was under the impression the consult and chemo would take about 2 hours, but they had to run blood work again, etc. Her blood was good- her platelets are around 766k (they were 2k), and red blood cell is at around 30, white blood cells are good. The biopsy they sent to the lab in NY was inconclusive, so since her platelets are good they did an ultrasound and "aspirated her liver" for a sample, and they are running a "PARR" test to check things. Regardless, we went ahead with the initial chemo, and finally got finished at around 5 pm. Next week I am taking my laptop and book, but they said it should only be around 2 hours (which is what I thought today.
At any rate, Lily made the rounds of all the technicians and doctors who saw her last week, and when I got her back she was sporting a pretty bow: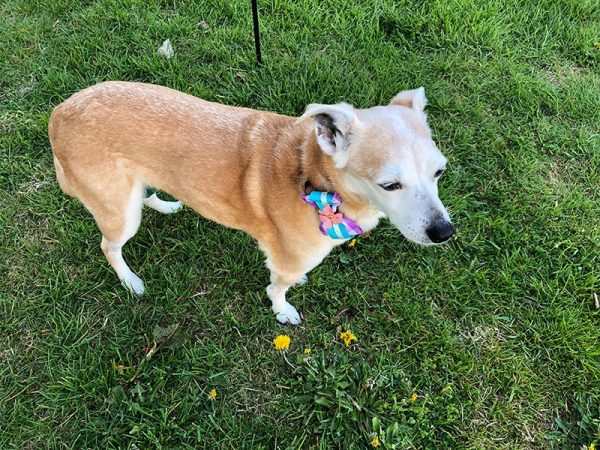 This is going to be a 19 or 25 week plan, depending on how well she responds and what the liver results show. That's all I got for now, but we both need a solid nap.