Sorry to every front pager I am stepping on, but I need to vent. Here is the portrait of an angel: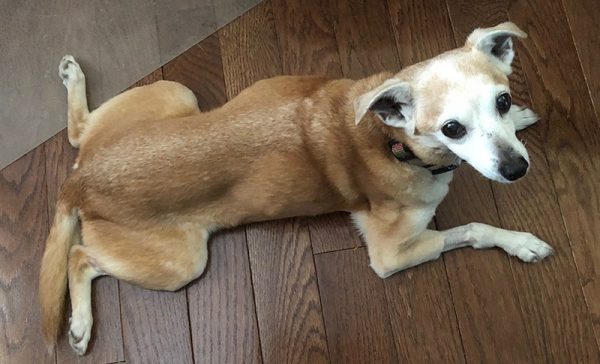 You'd think, given what she is going through and has gone through the past few weeks, she would be the one to act up. But no, even with cancer, going through chemo, she is a perfect angel. She quietly relaxes, she follows me from room to room and lies down and gazes at me, she goes downstairs and suns herself on the back porch. She is magnificent (although I will note with the meds and rich food she is now producing mustard gas and dutch ovened me in bed so much I woke from a dead sleep from the odor that made it through a sleep apnea mask and its filters. Sweet mother of everything holy it was bad).
The other two, however: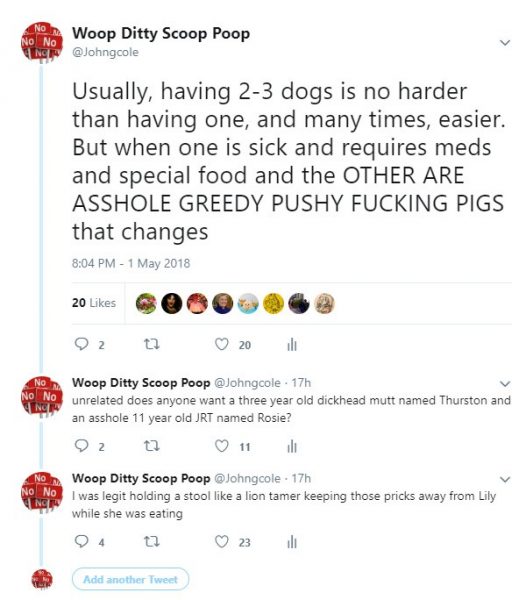 I mean, just nonstop dickishness. This morning I put them both out back and blocked the doggie door with a stool so I could give Lily her meds (two pills, two eyedroppers) without Thurston pushing her out of the way at the last minute so I shoot the liquid in her face instead of her mouth, and the two of them headbutted the god damned door for five minutes. Just the worst.
And it's not a matter of them needing attention. Rosie has never liked unsolicited attention. I don't recall if I have ever discussed this in detail, but Rosie was a very abused dog before she got me, so she has some unique issues. She still eats lying down because she was clearly crated the majority of the time, and she can not be a lapdog because she just shakes and is nervous. Additionally, I think the previous monster who had her before used to be nice then hit her, so when you are petting her and being sweet, she can all of a sudden turn into a monster and start snarling and growling and snapping. It's nothing you can train away, her wires just get crossed because she was so abused. She's not aggressive in the sense that she goes after people or other animals, but she can just get mixed up when yo uare petting her. So she wants attention, but it is kind of like a lot of cats- "mm yes pet the belly, pet the belly FUCK YOU I WILL END YOU SNARL HISS BITE." She also has bad hips, so if you walk by her and get to close she will go from sound asleep to Snarls Barkley. It's just who she is, although she is 1000% better than the first year I had her.
Thurston is just an attention seeking asshole, always has been, always will be, and wants to be an only dog. The dick. That's all I have to say about that.
Regardless, I still love them both and they are getting lots of treats and attention when they want it, but they are just being real pricks. Rosie has taken to sleeping on the stairs so there is no chance I make it to the kitchen without her knowing, and the two of them are constantly hovering whenever I do something. I stepped on Rosie twice and she snapped at my feet both times while loading the dishwasher- they are just all up in my grill. It's driving me INSANE and I am sure my neighbors think I am an insane crazy person when they hear me yelling stuff like:
"YOU ASSHOLES CAN HAVE ALL THE EXPENSIVE CANNED CHICKEN AND PRESCRIPTION FOOD YOU WANT WHEN YOU HAVE CANCER."
They are so pissed they are not getting the food that I forgot to pick up the fiestaware bowl I fed Lily in, which is quite heavy, and somehow Thurston managed to drag it out into the back yard so he could lick it.
God damned dogs.
I feel better now, thank you for listening.