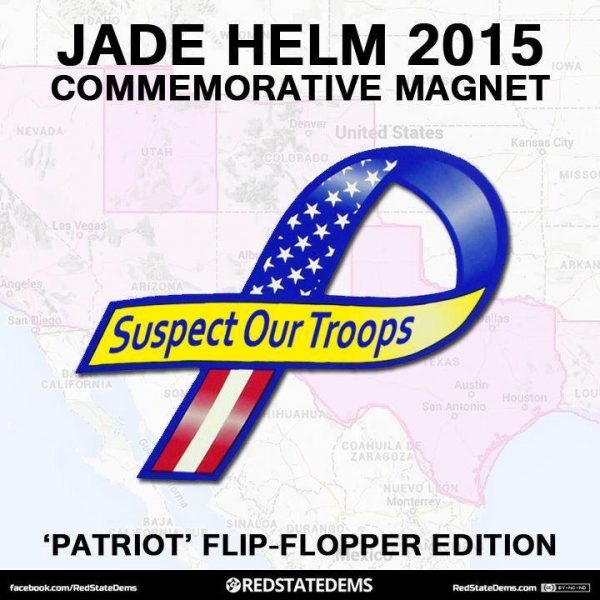 Of course it was a Russian active measures campaign!
The former director also said that @GovAbbott's decision to send the Texas State Guard to monitor the operation gave Russians proof of the power of such misinformation campaigns. https://t.co/lXwVpgwmkL

— Texas Tribune (@TexasTribune) May 3, 2018
From the Texas Tribune (emphasis mine):
A former director of the CIA and NSA said Wednesday that hysteria in Texas over a 2015 U.S. military training exercise called Jade Helm was fueled by Russians wanting to dominate "the information space," and that Texas Gov. Greg Abbott's decision to send the Texas State Guard to monitor the operation gave them proof of the power of such misinformation campaigns. 

Michael Hayden, speaking on MSNBC's Morning Joe podcast, chalked up peoples' fear over Jade Helm 15 to "Russian bots and the American alt-right media [that] convinced many Texans [Jade Helm] was an Obama plan to round up political dissidents."

Abbott ordered the State Guard to monitor the federal exercise soon after news broke of the operation. Hayden said that move gave Russians the go-ahead to continue — and possibly expand — their efforts to spread fear.

"At that point, I'm figuring the Russians are saying, 'We can go big time,'" Hayden said of Abbott's response. "At that point, I think they made the decision, 'We're going to play in the electoral process.'" 
Russia is waging war against the US and has been for several years. It is not a conventional war. It does not involve troops – at least not in the US. Rather it is a type of unconventional warfare. It is unconventional not in the classic and doctrinal understanding of unconventional warfare as "operations conducted by, with, and/or through irregular forces in support of a resistance movement, an insurgency, or conventional military operations". Rather the unconventional warfare that Putin has been engaging in for almost two decades is intended to leverage non-military options across the cyber domain, utilizing broadcast and social media to inflame the grievances and widen the cleavages between targeted demographics to achieve Putin's strategic objectives. This approach is similar to what the US calls Psychological Operations (PSYOP), which are defined as:
… to induce or reinforce foreign attitudes and behavior favorable to U.S. national objectives. PSYOP are characteristically delivered as information for effect, used during peacetime and conflict, to inform and influence. When properly employed, PSYOP can save lives of friendly and adversary forces by reducing the adversaries' will to fight. By lowering adversary morale and reducing their efficiency, PSYOP can also discourage aggressive actions and create dissidence and disaffection within their ranks, ultimately inducing surrender. PSYOP provide a commander the means to employ a nonlethal capability across the range of military operations from peace through conflict to war and during post-conflict operations.
It is far past time for American elected and appointed officials to recognize that a new and different type of war is being waged against the US, as well as our allies and partners, and formulate appropriate policies and effective strategies in response. The ongoing failure to do so places us all at risk.
Stay frosty!
Open thread.