Recently, E-health released a survey that asked a 1,700 of their customers about their priorities on health insurance.  60% of the respondents are not subsidized for their ACA individual market plans. That most likely means they are earning well over 400% Federal Poverty Level (FPL). One of the questions asked what they thought a "fair" premium should be for a single adult. This illustrates the challenges of anchoring on personal experience when the distribution of experience is widely skewed.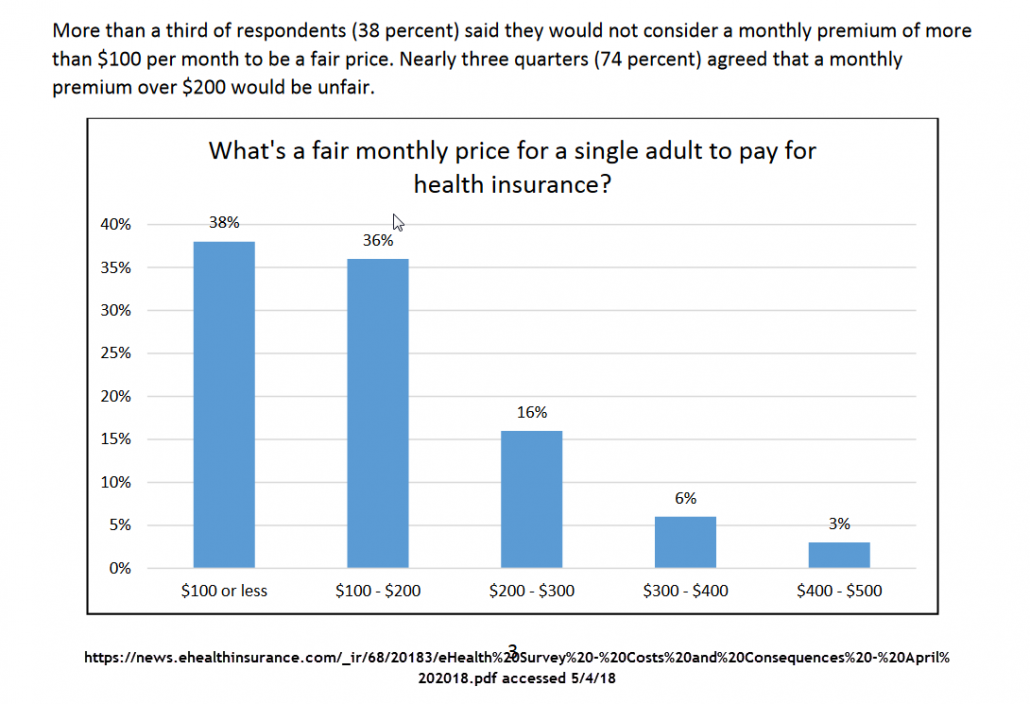 This is not a crazy response.
Most people, most of the time, are fairly low cost individuals. Of the people with high, persistent costs, a good chunk of them are either in Medicare or Medicaid. If they are in Medicare, the Part B premiums tend to be under $200 for most individuals. If someone is covered by Medicaid, their premiums tend to be nominal. The universe of people who earn over 400% FPL and are shopping for their own individual market policy is likely to be a fairly healthy as a group.
Now I want to pull up the most important chart in US health policy: the spending distribution for care.

Most people, most of the time, barely touch the healthcare system. The size of the "most" in the preceding sentence is probably larger for the E-health universe than the general population for age/income reasons alone.
I can easily see how people will look back at their recent experience and think that they went to the PCP once, get a generic prescription once last year and thought about going to the urgent care but did not because they tweaked their ankle chasing their nine year old down a rocky trail. Their total medical expenses may have been $350 so thinking that paying $1,200 to $2,400 a year to help cover that as well as cover the low probability of getting hit with a meteor or a cancer diagnosis makes sense.
The anchor of personal experience for most people is that their medical costs aren't high. They then add a wildly insufficient kicker on top of that baseline experience for high medical costs that have an extreme right hand skew on a power law distribution. Yeah, the numbers being bandied about as a "fair" premium are absurdly low but the process at how a lot of people got to those numbers makes, to me, a decent amount of sense.