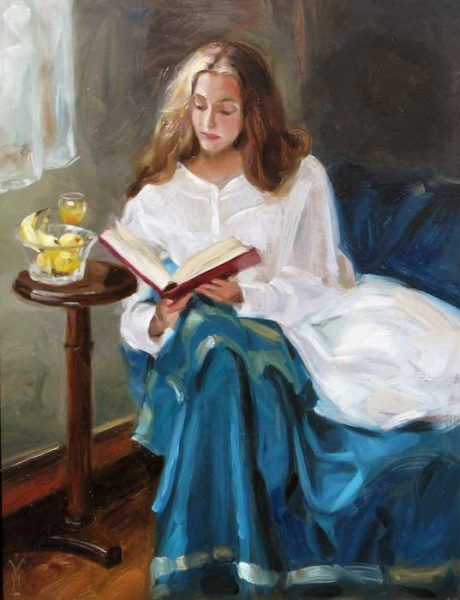 Reading – Mathis Miles Williams
I follow WereBear on Facebook and the other day she posted a note that she was now doing consulting and I thought it would be a good time to ask her to revisit her path to publishing, website and now cat consulting for our Writers Chatting posts.
From WereBear:
Reverend Jim, foundation blog kitty. His rescue started it all!

More on my adventures in self-publishing. This is a vital next step in my plan to extend the reach of my cat advice website, WayofCats.com (click here) which started with a book. Which no one wanted to publish. And here we are: don't need a publisher!

The last time I used Kindle for a book this amazing angle was still new and not yet fully developed. The conventional wisdom at the time was to create novella length PDFs and see how it went. So I wrote a concise cat care/problem solving manual (since some of the worst cat problems are care problems) and racked up some nice reviews and it sold for a while.

Now, eBooks on a site like Amazon are THE ballgame. The younger a person is, the more they expect a book to be available electronically. Amazon has added new wrinkles to its platform to acknowledge this adjusted reality. This led me to some hoop-jumping as I prepared my new book for Pre Sale. Pre Sale lets even a self-published author put the book up to accumulate sales before it is available for purchase or accepts reviews.

Somebody like Stephen King has months long pre-sale periods, because fans will buy it anyway. Someone like me gets two months, and it seems most people are thrilled… but waiting But this is a fine sales tool, because it lets an author promote the work and allows people to purchase it ahead of its release. This really was nice for me, as I wanted to give it one more polish — every writer knows how that goes.

Just don't indulge too much, folks: there's penalties for yanking the Pre Sale. It makes Amazon pouty and your ability to do so in future goes on probation. However, this tactic has made me #1 in Cat Training, and I get a little flag on my book page. So there is that.

The book, The Way of Cats, (available here) is the first in a series, and that's where the new Amazon thing got strict. I had thought I was going to make the Cat 911 manual part of a series, back when I put it on the site. But now all that has been superseded, and the upshot of it all was, I took it off Amazon. Don't want to confuse potential readers, who now expect actual books when they, yanno, buy books. Important because a series is a very important tool for both fiction and non-fiction. A mystery reader loves getting back to the next adventures of a favorite detective, (which also means we find the body sooner.)

While this works better for some genres than others (romance would not work unless it was a bit niche) a continuing character is usually a winning addition to our fiction ambitions. In fact, my next book will be the first in a cozy mystery series (so-called because they take place in a contained subculture with an amateur sleuth, downplayed sex and violence elements, and lots of psychological intrigue) so the subject is top of my mind lately.

Kindle Series are now difficult to shift on the fly, so be sure you have some thought put into this kind of commitment before getting everything set up in Amazon's publisher panel. There's a variety of ways to upload, but Amazon also has decided their default will be the complete document in Word's latest format. But don't panic if you are not a Word fan, since Google Docs, Apple Pages, and my beloved Scrivener are word processors who can export into a DOCX file. (The X stands for the Office Open XML standard, so many programs have embraced it.)

The very good news is that it is easy to format things the way you want them, even photographs and charts, and have it look good once it gets Kindled. Then, use that same file and format it to be a traditional book through the Amazon CreateSpace, an on-demand publishing platform that lets people order your book in paperback, too. An author gets a bulk discount for batches of these, perfect for those fun signing parties at the local bookstore… provided you have one these days.

Thanks folks, and remember that I am also available for Cat Consultations (click here) via Facetime, Google Hangouts, or telephone. I'll be hanging out in the comments if you have any questions about taking this wild and whacky journey.
Thank you, Pam! Okay, back to our writing chat. How are things going for you? Where are you at these days? What's got you stuck? And what's going well? Email me if you have something in the pipeline you want to talk about.
Hit the comments and be kind.