On the Road is a weekday feature spotlighting reader photo submissions.
From the exotic to the familiar, whether you're traveling or in your own backyard, we would love to see the world through your eyes.
Good Morning All,
This weekday feature is for Juicers who are are on the road, traveling, or just want to share a little bit of their world via stories and pictures. So many of us rise each morning, eager for something beautiful, inspiring, amazing, subtle, of note, and our community delivers – a view into their world, whether they're far away or close to home – pictures with a story, with context, with meaning, sometimes just beauty. By concentrating travel updates and tips here, it's easier for all of us to keep up or find them later.
So please, speak up and share some of your adventures and travel news here, and submit your pictures using our speedy, secure form. You can submit up to 7 pictures at a time, with an overall description and one for each picture.
You can, of course, send an email with pictures if the form gives you trouble, or if you are trying to submit something special, like a zipped archive or a movie. If your pictures are already hosted online, then please email the links with your descriptions.
For each picture, it's best to provide your commenter screenname, description, where it was taken, and date. It's tough to keep everyone's email address and screenname straight, so don't assume that I remember it "from last time". More and more, the first photo before the fold will be from a commenter, so making it easy to locate the screenname when I've found a compelling photo is crucial.
Have a wonderful day, and enjoy the pictures!
Today, pictures from valued commenter mainmata, who works overseas.
"US Embassy"
The old American Embassy was an early 1950s mid-century modern four-story office building with an open air canteen and various outbuildings along with one of the oldest and colossal banyan trees in Jakarta. Next to it was the USAID building, which had been a prison during the Japanese occupation in WW II (fun! – not). Instead, like everywhere else post 9/11, the USG is building gigantic fortresses like this one, which is scheduled to open in September after at least 5 years of construction. Needless to say, USAID (and even a lot of State staff) schedule meetings off-site rather than subject counterparts to occasionally worse than TSA procedures to get into a meeting. (photo: mainmata; 3/29/18; Jakarta

"My staff"
Here's the delightful and smartypants crew I work with everyday. Notice that help. They're all Indonesians, all women and about half are Christian and half Muslim (I think you can tell which are which). The religious imbalance (only 10% of the country is non-Muslim) is partly a function of education, job preference, English language capability and connections. But the Muslim staff are also wonderful, of course. The fact that the are all women is not unusual. Though there are lots of professional men in the development fields, women have really become more common in the middle and upper professional fields in the many years I've worked here because there has long been a strong women's movement in Indonesia.(photo: mainmata; 4/6/18; Jakarta)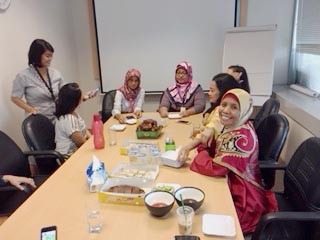 "Jakarta's 'Big Dig'"
So, it's always "Infrastructure Week" in Jakarta, a megalopolis of more than 10 million people. But, unlike the Orange Monster, the Indonesians, like the Chinese, are always working on infrastructure. In this case, they have decided to build an underground subway for some reason (designed and supervised by the Japanese) along a straight roughly 10 km. route through Jakarta's busiest corridor. Great idea except that this is a place that has all the soil stability of San Francisco's waterfront, is already below sea level due to subsidence and sea level rise and is subject to not-infrequent earthquakes. What could possibly go wrong? (Mind you, the city has a lot of light rail transport, which the Indonesians call LRT, of course). (photo: mainmata; 4/4/18; Jakarta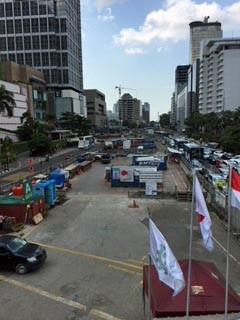 "Donnie and Marie"
Indonesia's first President, the George Washington of Indonesia was no modest person like our first president but a leader of the "Non-Aligned Movement" with Tito and Kwame Nkrumah (among others; look them up). So, he commissioned a bunch of mostly very bad statues made by Soviet "artists" to celebrate the country's culture. Most of these inevitably have sardonic nicknames. This photo is looking at the "Welcome to Indonesia" statue and fountain and the iconic Hotel Indonesia (partly seen on the right in this photo, all constructed in 1962 to celebrate the first Asian Games (which still exist, by the way). The nickname given to this statue in the 1970s by the Americans arriving to help Indonesian development labelled this the "Donnie and Marie" monument after the then well-known and mocked pop singer sibling group, The Osmonds. (photo: mainmata; 4/4/18; Jakarta)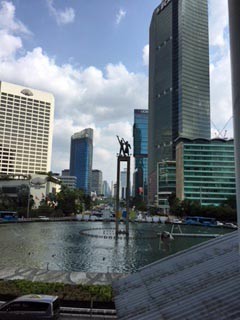 "MLB Helmet"
Since the 1980s, Indonesians have been required to wear motorcycle helmets and the law is enforced (if only to create shakedown opportunities for the cops). These use to range from kitchen colanders and other pots with makeshift straps to WW II German helmets but nowadays are almost all actual motorcycle helmets. I snapped this one with the Major League Baseball logo on it because giggles (baseball is not played here at all so it is unlikely no one knows what MLB is except a relatively small number of Indonesians who have done Masters or PhDs in the US). Philippines is a whole different story. Of course. (photo: mainmata; 2/28/18; Jakarta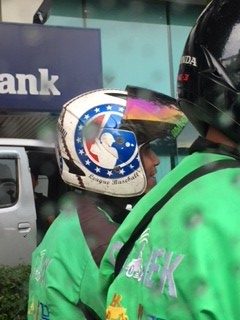 Thank you so much mainmata, do send us more when you can.
Travel safely everybody, and do share some stories in the comments, even if you're joining the conversation late. Many folks confide that they go back and read old threads, one reason these are available on the Quick Links menu.
One again, to submit pictures: Use the Form or Send an Email