It's far too early to write the history of RussiaGate / Stupid Watergate / TreasonGate (or whatever you want to call our long national nightmare). It's still possible that the bad guys will win, and then they get to write the history.
But it's not too early to recognize who's playing the Woodward and Bernstein roles in our unfolding national crime drama, and it ain't Maggie Haberman and Glenn Thrush. It's a snarky adult film actress and her dishy lawyer.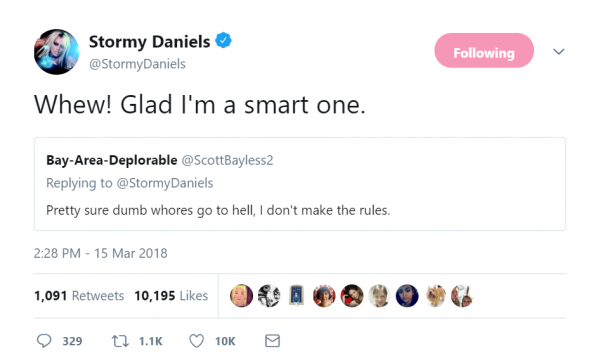 In the early morning thread, Kay made the following observations:
It's true – she's not a whiner, that Stormy. She knew the assholes would fight her every step of the way. She expected nothing better from these people. Because she knows them.

We do a lot of worshiping of brave whistleblowers in this country and for some reason that hasn't been applied to this porn actress. It should be. She's up against some powerful people, and they're mean as snakes. I believe the Trump thugs threatened her in a parking lot and I would bet 100 dollars she's not the only one. I mean, Jesus. Just looking at the Russian dissidents who have "accidents" is scary. This is Trump's scummy crew.

Would Stormy be treated differently if she were some upper manager who worked for Trump Criminal Enterprises Inc and blew the whistle on Cohen? Yes. So, why? They had a business relationship with Stormy. This wasn't a romance.

It's snobbery. She's not a Edward Snowden figure because of the business she's in and because of how she looks. She never would have gotten anywhere without a really aggressive and telegenic (and male) lawyer. The rest of the women who accused Trump were ignored.
Truth. As some wag on Twitter (I think) said, if the tag team of Daniels-Avenatti helps bring Trump down, statues of the pair should replace all the Confederate garbage polluting town squares across the South. It's indisputably heroic, ridding your country of an incompetent clown (who's in thrall to a foreign despot) and his corrupt crew.
But will Avenatti — and especially Stormy Daniels — get the hero treatment? Nah. Think about how not only Snowden but also Assange were/are lionized as truth-tellers who brought government perfidy to light. Their supporters would bristle at the suggestion that Stormy Daniels belongs in the Heroes of the Republic pantheon.
Assange and Snowden are described as "radical transparency" advocates, and I suspect their supporters would sneer at Stormy as a self-promoter (if they were feeling polite). The truth is, Assange and Snowden are a pair of self-promoting drama llamas, and any good they did was incidental to actions in service of their giant egos.
I find Stormy Daniels' lack of guile about her purposes refreshing, to be honest. Same goes for Avenatti. They aren't out there claiming to be selfless heroes, but if they succeed in helping to bring Trump down, they're heroes all the same.
PS: Article 2, Section 4 of the United States Constitution:
The President, Vice President and all civil Officers of the United States, shall be removed from Office on Impeachment for, and Conviction of, Treason, Bribery, or other high Crimes and Misdemeanors.
Just saying.