So today was the day of the annual summer shaving for Steve, and it did not come a moment too soon. He was miserable with all that hair, and I was miserable every time he sat on me because he was just so hot. At any rate, the obligatory "Steve has to go to the vet/groomer" shenanigans started at 6 am this morning, when Steve started bitching for food and I ignored him. FOR THE NEXT SEVEN FUCKING HOURS.
The reason for this is twofold. First off, if I feed him, there is a solid chance I will not see him again until 5 or six pm (unless it is a serious blizzard or an epic rainstorm), so I need to have him hungry so I can grab the whip and stool and lure him into the downstairs bathroom by pretending to feed him, shut the door with us both inside, and then wrangle him into a crate. Second, our ferocious beast has a delicate stomach (see also, the Legend of Shitmas), and every time he goes in the car anywhere he shits himself, and he also poops on the groomers once or twice for good measure and they are pretty much traumatized by his antics.
All went according to plan, I corralled the vicious sabretooth, got him to the groomers, they called back a couple hours later, and I picked him up. They reported happily that he "only pooped on us once this time," and I grabbed him, put his crate in the car, and headed home.
All went well (I mean he was bitching and moaning and cussing and caterwauling but the hissing was at a minimum) until we hit the big curves halfway home, and a wall of stench slowing seeped forward and then hit me full force. All the windows went down, and I drove about 10 mph because if the crate slides, I know what he is sliding in, and I will be opening a crate full of the equivalent of Satan's Anus and a pissed off polydactyl cat to boot.
Got home, made sure all the other animals were locked outside, and opened the crate with the delicacy of a neurosurgeon making his/her first cut. Steve was having none of it, and went berserk when the water hit him, but after a little bit of blood and tears with a smattering of atheist prayers, I got him cleaned up and dried off enough to let him free. He bolted outside, and still refuses to come within ten feet of me: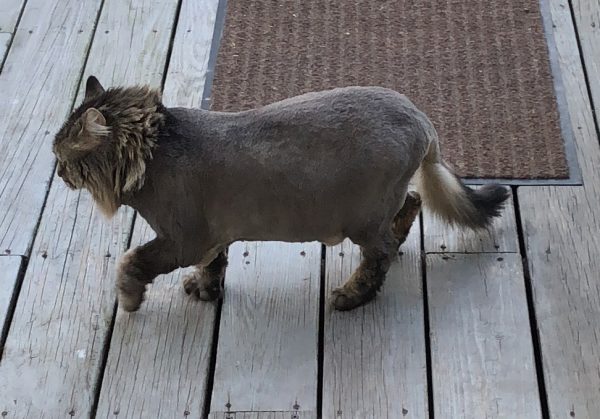 He also refuses to make eye contact: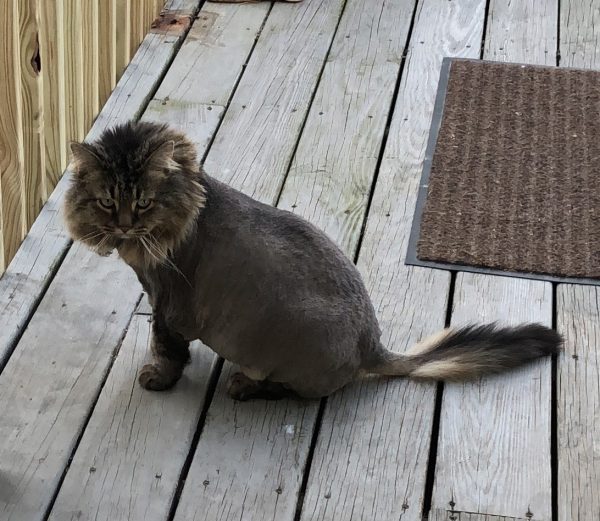 I tried to lure him inside with a can of cat food, but he was not having any of it. You know the old saying- "There's an old saying in Tennessee — I know it's in Texas, probably in Tennessee — that says, fool me once, shame on — shame on you. Fool me — you can't get fooled again."
For now, the circle of trust has been broken.