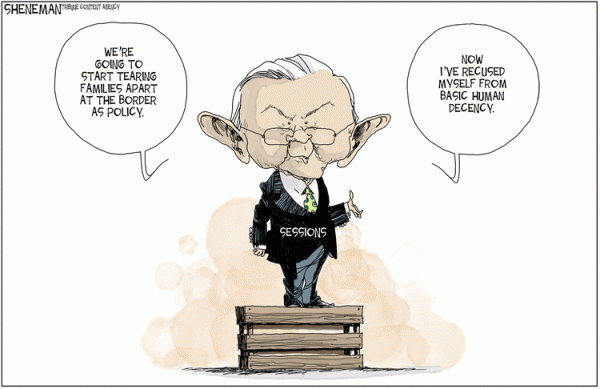 In Tennessee speech, AG Sessions defends stop and frisk policing, says "If you want crime to go up, let the ACLU run the police department." https://t.co/RrmFPcqK2I

— Gabriel Malor (@gabrielmalor) May 9, 2018
… Newly appointed U.S. District Attorney Doug Overbey introduced Sessions Tuesday morning in a law enforcement conference held inside the Gatlinburg Convention Center…

The nation's top law enforcement official encouraged the officers, spoke quickly about the opioid crisis and railed on the policies of the "fuzzy-headed left" and illegal immigration in a 25-minute speech.

As he has in other stops recently, Sessions promised to continue being strict on immigration by adding 35 prosecutors and 18 immigration judges to border states to deal with backlogs of immigrant cases.

He used the event to praise the officers who came from across the Southeast. He said the room was filled with "some of the best people in America."…

Sessions also spoke about the increasing threat of fentanyl, the deadly drug often used with heroin.

"Drug use, addiction, overdose deaths have surged, as you know," he said. "So we have to work resolutely to stop these trends. We must reverse them. That must be our goal. We know how. We've proven what works. Science proves what works … we share good practices at conferences like these."…
The ever-solicitious NYTimes, last month:
… Mr. Sessions has taken more abuse from President Trump than any other member of his high-churn cabinet because he recused himself from the Justice Department's investigation of Russian meddling in the 2016 election. Over 14 months in office, Mr. Sessions has gone from, in Mr. Trump's words, "a great protector of the people" to "weak," "disgraceful" and an "idiot."

But Mr. Sessions is in many ways the best attorney general Mr. Trump might have hoped for. While the president rails against him in Washington, Mr. Sessions travels the country diligently pushing the conservative Trump agenda. As a former federal prosecutor who has a firm grasp of the tools of his office and the letter of the law, Mr. Sessions, 71, is the creator and chief enforcer of the tough immigration and criminal justice goals that helped propel Mr. Trump into office.

And unlike several other members of the Trump cabinet, Mr. Sessions has not sullied the administration with headlines over first-class jet travel, exorbitant office furnishings, lobbyist-furnished housing — or all of the above…

When meeting with the police, border patrol officers and the victims of crime, Mr. Sessions gives Mr. Trump all of the credit for a law-and-order crackdown he has put into effect with a speed that thrills supporters and appalls critics. With Mr. Trump, he has said, Americans are getting "support for law enforcement like we haven't seen in many years." He leaves out the fact that Mr. Trump's support does not extend to him…
The second Sessions gets fired for doing his legal duty by recusing himself from the Russia probe he will become the left's new Strange New Respect martyr, but let's not forget that he always was and is a crap choice for Atty General, with the wrong priorities. https://t.co/dxCQQFIfog

— Jeff B. (@EsotericCD) May 9, 2018
Jeff Sessions has chosen to put up with whatever abuse Trump hands out because they have one big goal in common: The punishment of those who are not well-to-do white men of "good character". He may draw back from the prosecutable crimes and corruption that surround Lord Smallgloves like flies around a day-old carcase, but he gleefully promotes every authoritarian violation of mere human decency in support of the greater revanchist dream of an America 'returned' to its lily-white Christian masters.
And he's not alone:
Here's John Kelly when asked about AG Sessions' "zero tolerance" policy of prosecuting migrants who cross illegally, with the express intent of separating families. pic.twitter.com/4JqNpRXvJ8

— Roque Planas (@RoqPlanas) May 11, 2018