The Petersen-Kaiser Family Foundation Health System tracker has a really interesting graphic on the average price paid for full knee replacements in metropolitan statistical areas in 2016 by large group insurers.  There is wild variation: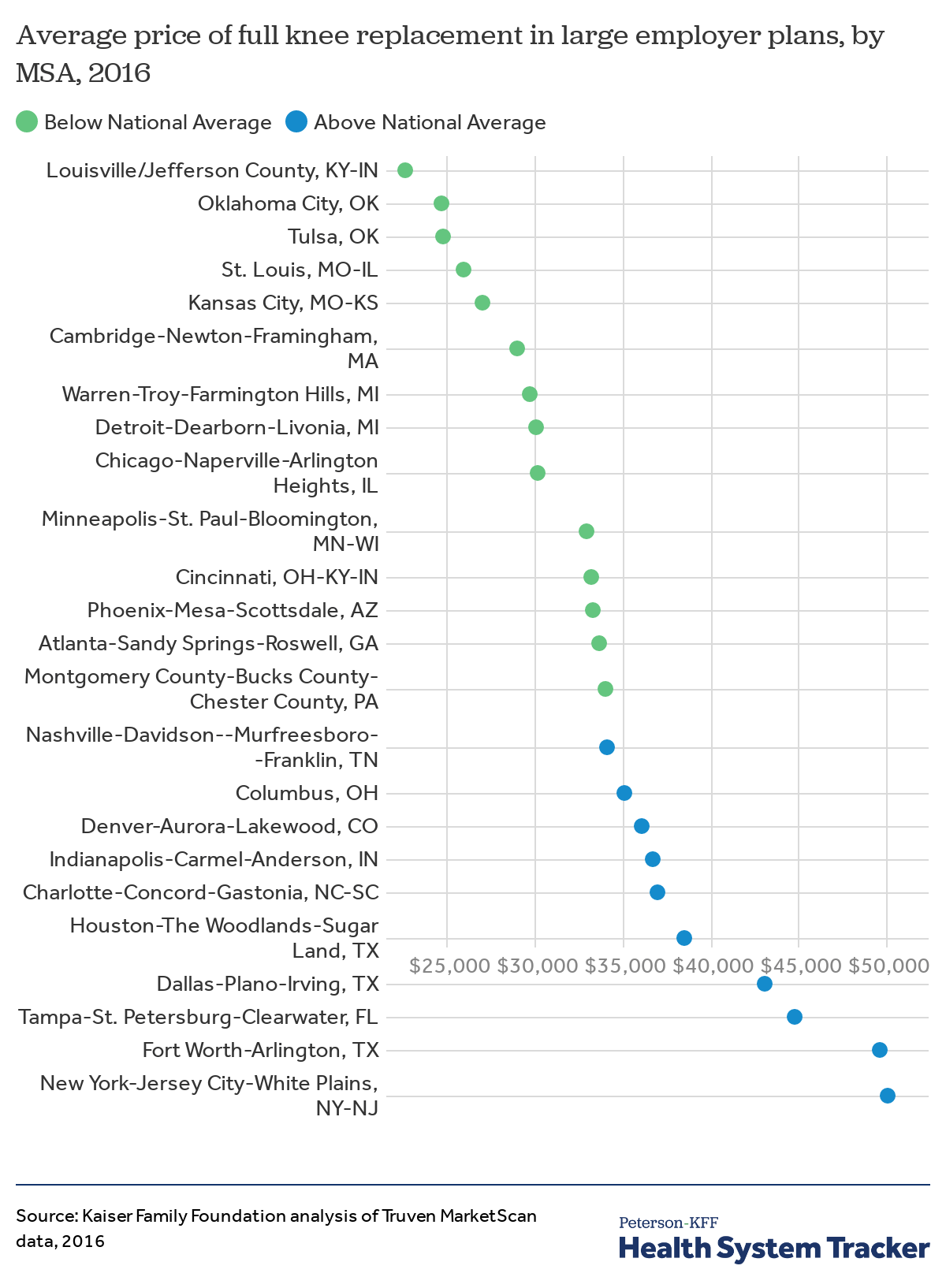 One of the first things I think about here is the possibility of regional trade. St. Louis is, on average, a little ($1,200) less expensive than Kansas City, Missouri for the same procedure. Cincinnati is, on average, a little ($1,800) cheaper than Columbus Ohio. Dallas is about $6,000 cheaper on average than Fort Worth. New York City is about $16,000 more expensive than the Philadelphia suburbs centered on Montgomery County, Pennsylvania.
It might not be worth sending someone from St. Louis to Kansas City for a knee replacement once travel, hotel and upkeep costs are factored in. It might be worth spending $2,000 to send someone 35 miles from Fort Worth to Dallas to save $6,000. It might be worth spending $10,000 to send someone two hours south in order to cut their knee open in Montgomery County instead of in Manhattan.
There are a couple of major challenges to expanding the geographic market region for health insurance. The first is that most plans are required to have network adequacy of so many surgeons within so many miles. Urban areas will often use a ten mile radius. In large metro areas, there are dozens of surgeons in a plan. For instance, within 5 miles of my former employer's headquarters in the narrowest Exchange network (UPMC Partners) there are 70 orthopedic surgeons. Many can do a knee replacement if needed.
Benefit design is another challenge. The least expensive metro area in the Peterson/KFF tracker is Louisville at $22,606 as the average amount paid. Most benefit designs will see the patient already maxed out. High Deductible Health Plans (HDHP) will have hit their limit $15,000 ago, and deductible plus co-insurance plans will have very low to no cost sharing on the last dollar of spending. In New York City, patients will have reached their out of pocket maximum under almost any plausible plan design. There is no economic reason for people to decide that going to a hospital two hours away makes sense as they don't see any gains. If they are already capping out their out of pocket expenses, the incentive then is to go "easy" which usually would mean close by, familiar and expensive.
Some insurers and large companies (Walmart) use a center of excellence approach where they routinely fly people across the country for very high cost procedures with all patient costs covered (including travel, living expenses and deductibles). This is effectively a preferred tier network design and that might be the way to encourage expanding the competition regions for some procedures with large price variation. The deal could be a person pays $4,000 for surgery in New York City or $0 plus nothing for a hotel room for a partner in suburban Philadelphia.