Spent the day in Pittsburgh at the vet and chemo had her 4th week of treatment. Lily was such a good girl she got a treat (who knows how many she got while in the back):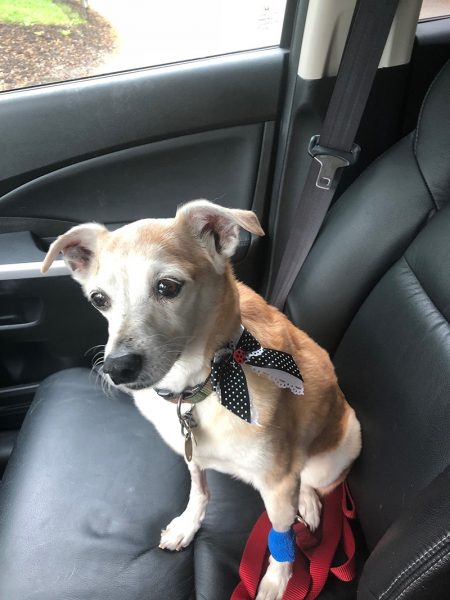 Every time I go I have to fill out update paperwork, put down any symptoms she might be suffering, request any refills, etc., and note any other things I want done, and this week all it was was "toenail trim and she needs a new bow and her gas can clear a room." Apparently one of the nurses hand makes the bows (I thought they just bought them en masse), so when I left for lunch I stopped by Joann Fabrics (is that a local chain or national? The other type of place like that we have around here is Michael's) and picked up a bunch of rolls of ribbon so she would have supplies to make them for more dogs because they're all good dogs.
As far as her health, she is doing well, although now her platelets are getting too high, so we are scaling back the prednisone and adding a little plavix. She gained some weight (about a .3 kg) and all her other vitals are fine, and on the end of the seventh day of each treatment she is doing better than she has for months. That doesn't make sense so let me explain more. On the day of treatment, she is fine and doing well, then the day after and the next day after treatment she is a little morose and less energetic, but then she quickly rebounds and every day she progressively gets better until the final day before her next treatment, when she is in peak form and better than she has been by months. Each week, the day 7 peak is higher than previous weeks. If that makes sense.
When she came out today she had this super fancy bow and a very nice pedicure and was looking very good. Sadly there is not much that can be done about the gas but that is why we have fans and scented candles, amirite?
At any rate, I know I am biased, but I still think Lily is perhaps one of the most adorable dogs on the planet: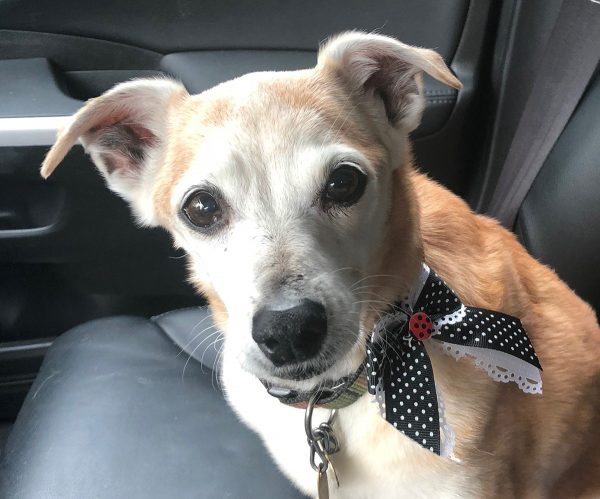 I just love her delicate eyelashes and the fine whisker around her muzzle and the coal black wet nose and those big eyes. And we have been together so long I just know how she is doing by looking her in the eyes.
At any rate, it was a long day and everyone has been fed, pooped, and peed, so now it is time for the herd to nap. I'm tired. It's been an exhausting year.