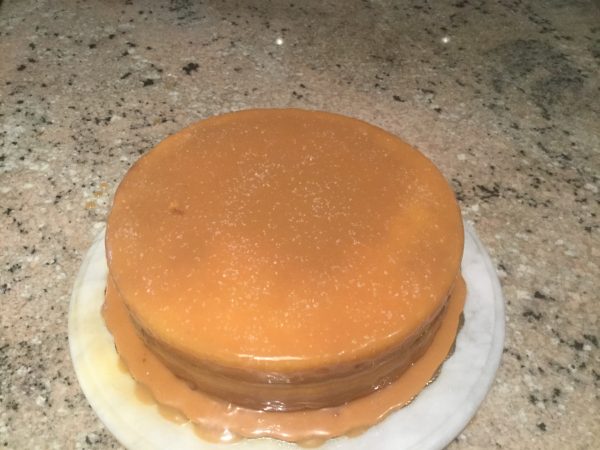 I made a caramel swirl layer cake with salted caramel ganache for Mother's Day brunch last week.
I adapted the white layer cake recipe from Epicurious, which you can find at this link. Or use your own preferred white cake recipe. The adaptation was swirling salted caramel ganache into the cake batter before putting it into the oven.
Salted Caramel Ganache
8 ounces of caramels (If you have a recipe for caramels you like and want to do the work, then make them. If there is a for purchase caramels that you like, then save yourself some time and effort and buy them.)
8 ounces of heavy whipping cream
1 teaspoon of vanilla extract
Kosher salt to taste
Place 8 ounces of caramels in a mixing bowl. Scald the cream and vanilla extract and pour it over the caramels. Because caramels don't melt like chocolate does, place the mixing bowl over a pot of boiling water as a double boiler. Let the scalded cream sit on the caramels in the double bowler till the caramels are soft enough to whisk the hot cream into, then whisk them together to make the ganache. Add kosher salt to taste, or if you like your caramel unsalted, leave it out. I won't call the food police. Swirl the caramel ganache into the cake batter after it has been poured into the cake pans and then bake per the recipe's instruction. They should look something like this: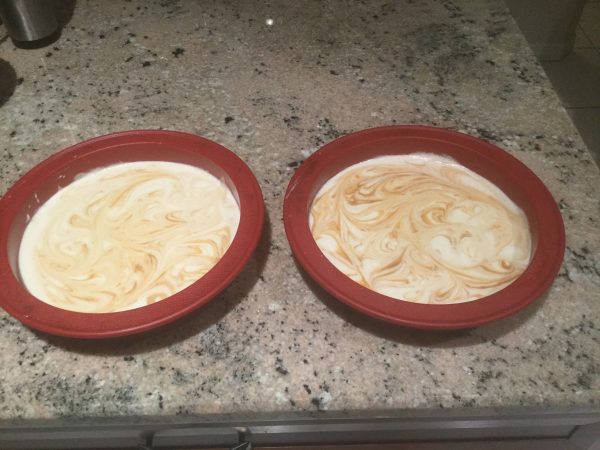 Once the cakes are done and cool, make another batch of caramel ganache and set it aside until it comes to room temperature. Then whip another 8 ounces of heavy whipping cream till you get stiff peaked whipped cream. Fold the room temperature caramel ganache into the whipped cream to make caramel mousse.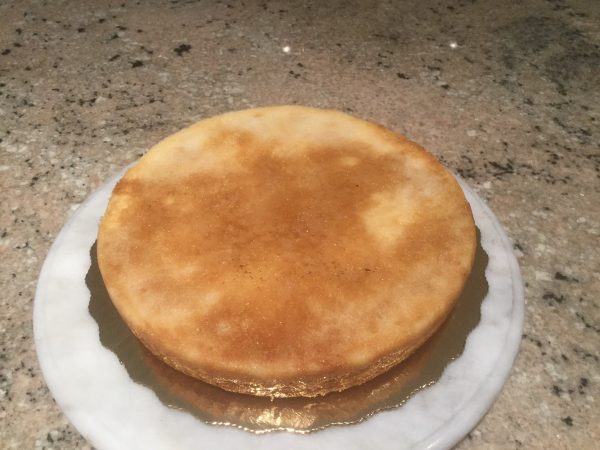 Turn the cake out onto a round, then frost the top of the first layer with mousse. Place the second layer on top, then frost the top of that and the sides of the whole cake. Then place in the refrigerator. Make one last 1/2 batch of the caramel ganache – just 1/2 everything in the recipe – and let it cool to room temperature. Remove the cake from the refrigerator, and pour the ganache over the top and smoothing it out over the top and the sides with a spatula. Then sprinkle the top with kosher salt or whatever your preferred finishing salt is.
Then slice and enjoy!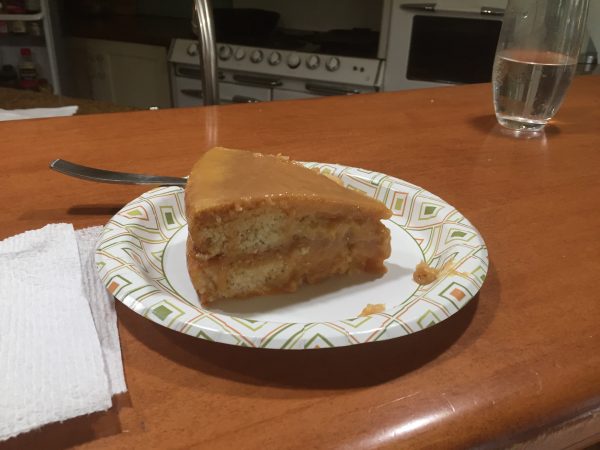 Stay hungry!
Open thread.