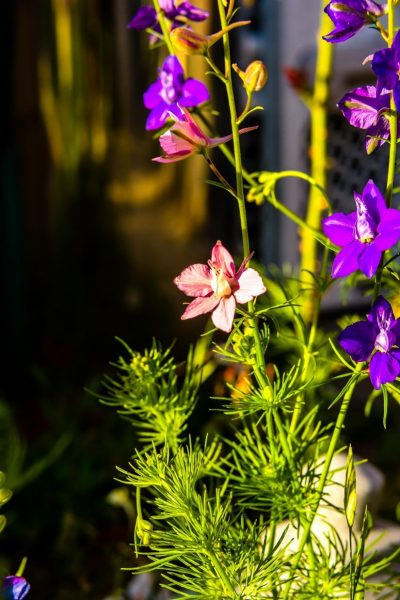 From the always-excellent photographer & commentor BillinGlendale:
Since I rent The Cave, I don't have an extensive garden. I've managed to carve out a space by the door and have some roses(not pictured) and some wild flowers.

As many of you know, I quit drinking about 7 years ago and soon afterwards decided I'd actually like the place to look a bit better. I purchased some window boxes and mounted them beneath the windows for flowers and spread out some wild flower seed in a bare patch of earth by my front door.

I had a nice growth of wild flowers, including California Poppies(our state flower). The second year, however, my landlord and his minions decided to 'weed' and pulled them all up. The wildflowers have been persistent and returned each year, except for the poppies.



Two years ago, I planted the roses and they produce a wonderful light purple flower to give the area a bit of permanence(and thorns to bite back).

A few weeks ago I picked up some California Poppy seed at the Big Orange Home Improvement store and they have begun coming up, but not yet blooming. Hence this post may show a work in progress.

These were all taken with a Samsung NX500 with a 45mm, f/1.8 2D/3D lens in 2D mode
***********
On the agenda here north of Boston today: Buying more fresh potting mix, for the latest batch of mail-order tomatoes. It rained quite heavily yesterday, so the big plastic bags at Mahoney's will be wet and even heavier than usual, ugh. But if — against predictions — it's still raining by the afternoon, I'll have to wait until Wednesday or next weekend to procure it!
What's going on in your gardens, this week?