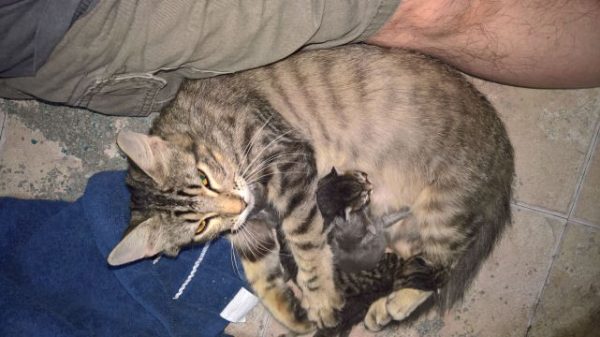 From commentor Kirk S:
The background:
I live in an apartment complex in Houston – been here for three years now. There's a cat colony in our section that has an extremely prolific mother. Unfortunately she's also very smart about traps and completely opposed to a hand or other human body part within a couple of feet. At the same time she knows – and teaches her kittens – that people are where the food is. (We are not the only ones. We put out water as do a few other apartments. Sometimes we put out dry cat food.) As a consequence the descendants range from skittish to pet-like in behavior.

The cat you see in the picture was one of Mama's litter from a few months ago. She's one of the 'wants to be a pet' cats – though cautious of new people, she wanted to be petted and held, and would try to come inside. The kittens were her first litter at what is way too early an age.

How much too early? Wednesday afternoon she dropped 8 kittens in a circling line, crying in pain, and once the last was out she ran. A neighbor and my wife saw the later end of this and gathered the living kittens – the four survivors – brought them into the apartment in a small box, and gave them a little water.

Soon after this cat came to the Mrs. wanting to be held and comforted. So Mrs. brought her in and put them all together. The cat was panicky and kept pushing the kittens away till Mrs. found a larger box (a microwave box headed for the trash), put a towel in the bottom, put kittens and cat inside, and lowered two flaps to form a cave. A few minutes later the four kittens were nursing.

The plea:
My apartment allows me to have two pets. I have two dogs. Now I've got a cat and kittens and they can't stay.

I'm old enough to believe this cat and her kittens will do tolerably well if I set them outside eventually. As I said, there are several good people and some decent cat hiding places around. There are also, unfortunately, children who don't know better and again this is one of the friendly cats. If worst comes to worst I'll put the doorless pet taxi they're using as a cave out on my tiny apartment porch and trust her to move to a better place.

But I'm also a sucker, and I'd like to know if any of the Balloon Juice jackals might know of a home while these kittens get to adoptable age and maybe even longer for the mother.

Lessons learned:
Houston – or at least the north side of Houston – does not have a trap-neuter-release program. Or at least not yet. One of the things I've learned is that there was a pilot, it was successful, and a program is coming. I'm on the list to be told because I've got a lot of cats who trust the Mrs. and I enough to permit being picked up – and a lot more who will come close to be fed. When I know more I'll share it with the group for two reasons. In part for those also able to use it, but also for those who might be able to spare some change for the program. I can pretty much guarantee the providers will be overjoyed to have the assistance.

It's kitten season. The shelters are full – both the no-kill and the "we prefer not to, but…" shelters. There are several groups working to do what they can, but they're almost all volunteers, some supported by vets going an extra mile or two. Houston Area Cats & Kittens and Operation Pets Alive are two quick examples. If you find yourself with an unexpected pet rescue call your vet and ask them what agency or agencies they know that can assist. I promise they work with at least a couple. When you contact them and especially if they are hesitant, ask if there are other agencies they can recommend instead or as well. Regardless, once the emergency is done pay forward. Who knows, you might need them again. And most of us humans are a lot more willing to help those who show we give as well as take.

Why do I have this information here? One of the cat's siblings is also almost as round. There's a chance I may be doing this for two cats. (I will be donating to that TNR program once it's up. I don't want to go through this again.)
If you can help, or have any suggestions, leave a comment below. Or contact me at annlaurie (dot) bj (at) gmail (dot) com, and I'll forward your message straight to Kirk. Crossing my fingers for teenage cat-mom and her babies!