"You have much to learn about the ways of The Force, my young Padawan." pic.twitter.com/ixC8vLWNeY

— Betty Cracker (@bettycrackerfl) May 23, 2018
When our daughter was zero to one year and eleven months old, my husband and I deluded ourselves into thinking we had a rare infant/toddler who consistently behaved in public. We pitied other parents we saw in restaurants, grocery stores, etc., when their little monsters had embarrassing public meltdowns. When that happened, my husband and I exchanged knowing glances and smiled smug little smiles.
I remember the exact moment we were disabused of our delusion. We were in a family pizza-spaghetti joint with our daughter, who had recently turned two. She was in a high chair, and instead of quietly munching the Captain's Wafer crackers I offered to placate her until the food arrived, she pounded them into dust on the tray and distributed the crumbs in a six-foot radius of our table. She issued piercing shrieks and repeatedly threw her sippy cup.
We hastily finished our meals and departed, leaving an enormous tip and resigning ourselves to Chuck E. Cheese for the next few years. The one near us sold beer. I bet they sell A LOT of fucking beer.
Anyhoo, I experienced a similar phenomenon with the pup today. I've supervised Badger's training from the mudroom/home office, gating the two of us off so poor old Daisy can get some peace and quiet and I can closely observe the little critter to hasten the house-training project. He's doing well on that front!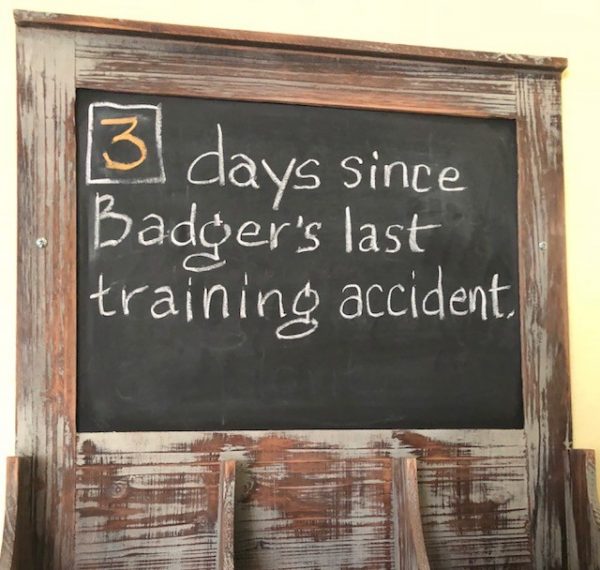 But my job requires occasional phone conferences too. In the three weeks we've had Badger, he's been an absolute ANGEL during these calls, sleeping sweetly at my feet. That lulled me into thinking he was just a great phone conference puppy! Not so, as it turns out.
Thank God for the fucking mute button, because today, Badger was a raging brat during a call. He's not much of a barker, but he was running in circles growling and barking. He tore one of the ears off my piggy slippers: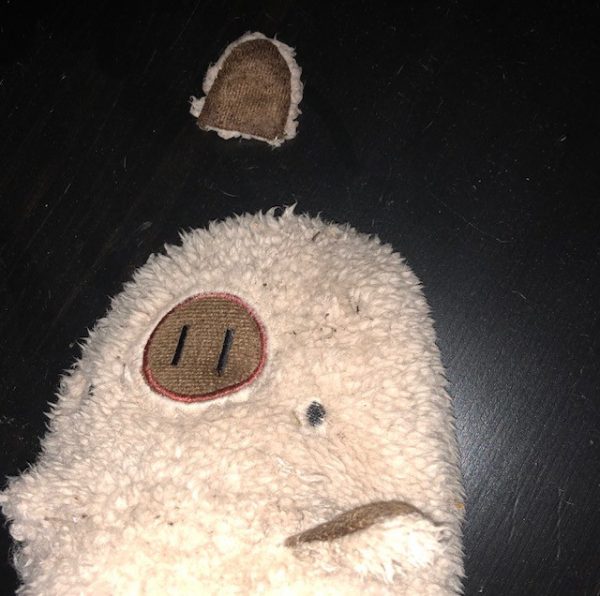 As I extracted the ear from his mouth, he sank his sharp little teeth into my thumb. I happened to be speaking on the call when that happened, and listeners may have noticed that my voice rose an octave or two, but otherwise, I held it together.
I tried plying the little shit with dog training treats, which had the exact opposite of the intended effect, as any fool could have predicted; it reinforced his bad behavior, so he stood on the floor with his paws on my knee, barking as I handed him treat after treat.
The experience was almost as harrowing as when I had to climb into one of those human Habitrails at Chuck E. Cheese to extract my daughter, who refused to come out because another kid had peed and then disrobed. I'm getting too old for this shit.
Open thread!