Subtropical Storm Alberto is parked to our west. My whole house is a mudroom now, and we haven't had the worst of the rain yet. But aside from floors that need mopping (fully clothed, if you please), we don't expect too much trouble from Alberto, which looks like it will skirt the coast on its way north. Stay safe if you're in the path!
CNN's top story is about Claudia Patricia Gomez Gonzalez, a young woman from Guatemala who was shot in the head by a US Border Patrol agent. Right after I read the account of her death and was filled anew with horror and despair about what this country has become, I wandered over to Twitter and saw the following from Trump:
Who's going to give back the young and beautiful lives (and others) that have been devastated and destroyed by the phony Russia Collusion Witch Hunt? They journeyed down to Washington, D.C., with stars in their eyes and wanting to help our nation…They went back home in tatters!

— Donald J. Trump (@realDonaldTrump) May 27, 2018
He's not talking about the 20-year-old from Guatemala who had hoped to further her education in accounting. He means people like Hope Hicks, who was inconvenienced by having to testify about her boss's lies and erratic behavior. He means folks like the aide who had to leave when it was revealed he was a serial domestic abuser.
Ugh. Sorry to spoil an open thread with news of that odious asshole's contemptible blather. But the endless atrocities — like the shooting of the unarmed migrant, missing children, separated families, mass school shootings, murdered young black men — and a lawless administration that is hell-bent on making it worse, make me wonder when enough will be goddamn well enough. And what actions a citizen can take beyond registering new voters. I keep coming back to this quote from Mario Savio: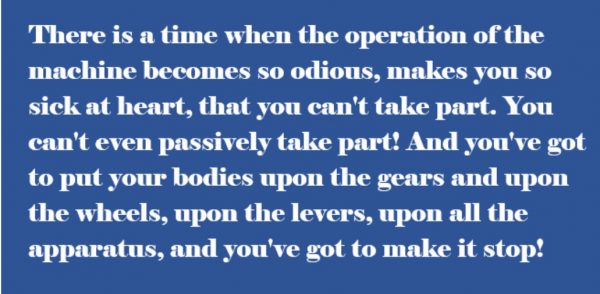 Still figuring out what that means for me. And on that cheery note, open thread!
[Edited to fix typo]