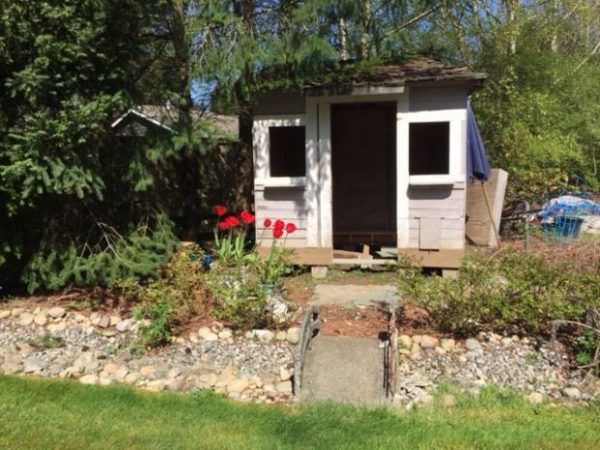 From indefatigable gardener / commentor OpieJeanne:
This used to be a chicken coop that the previous owner built out of scraps and "found" materials. You can see the flap door next to the door.

The floor had rotted away because it sat on the ground and it leaned to one side.

By the time this was taken we had raised it off the dirt, leveled it, and added 8" to the height because Mr opiejeanne fell in love with a door at Second Use that needed the extra height. It's bright green and has lots of small window panes.


We had a window we picked up at a garage sale several years ago and we installed it two weeks ago. I'm surprised none of the panes were broken in all of that time.




These are the pieces of the floor.


Last Sunday my nephew in-law helped us install it.


We had some bead board left from a project and thought that would be good for the lower half, and pegboard above the chair rail.


After we had the lower paneling installed on one wall we decided to insulate the shed. ?


There's another window that we picked up at Second Use that will go on this wall.
***********
I still have a dozen mail-order tomatoes to plant out, but I need more fresh potting mix. And then I have to haul the tomato ladders out of the fenced yard, drag three dozen 15gal rootpouches all over the damned lot, get the nascent fruit bushes transplanted or at least out of the way, and sort all the tomato pouches so everything will still be accessible when they're (I hope) growing tall & sprawly in August…
As Dorothy Parker is supposed to have said about writing: I hate gardening. I love having gardened!