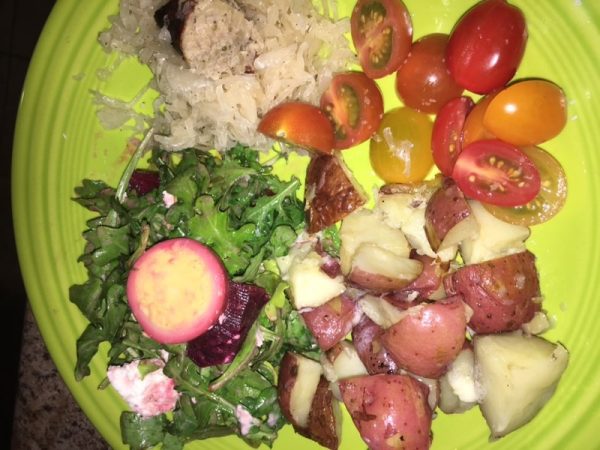 Long day today. We just got finished cleaning up after dinner, in fact. Dinner was bratwurst and sauerkraut (If you all have an Aldis near you, their Deutsche Küche brats are in stock and only 2.99), roast potatoes, tomatoes and peppers, and a beet and goat cheese arugula salad with a made from scratch dijon vinaigrette. Very tasty.
Gerald's tractor he uses for mowing blew up (one of his side businesses is lawn mowing, so when his tractor dies, it is a big deal), so he and I spent four hours driving around, going to tractor supply, etc., until we found a good replacement on sale at Lowes, which was even better because with my Lowes card I get 5% off and an extra 10% because of the military discount, and when you are spending three grand on a mower that's a pretty damned big deal.
Tomorrow it's all lawn and garden work, and then tomorrow night we are having Gerald and his kids over for home made pizza and movie night. Gerald's wife is working doubles and Tammy is going to watch the kids all afternoon so Gerald can work, so we thought we'd just make pizza from scratch and teach them how to make dough and the like.
When I sit on the front porch I look up at my empty nest a lot and wonder where my birds are doing and what kind of wild adventures they are having. I wonder if they have fun or it's all just danger and instinct to survive. I hope it's the former. I'd invite them in to hatewatch House Hunters with me, but Steve would probably eat them.
Oh well.