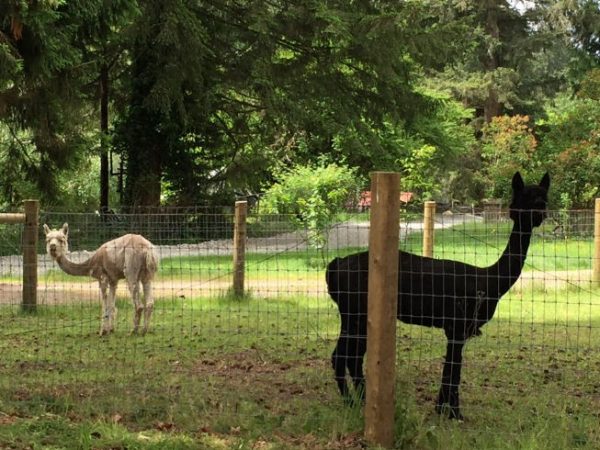 Self-propelling garden accessories, via indefatigable commentor OpieJeanne:
Freshly shorn alpacas. We finally got to talk to the owners and were told that these two are 18 years old, refugees of a small petting zoo.

The owner said their hair is difficult to work with and this year they couldn't find a fiber artist who wanted to work with it.

They have two new companions, two lambs: one black and one white. Running away from the scary lady taking their picture.

The alpacas' owner says they like having chickens in their pen. The buff one is ten years old and was part of the same petting zoo as the alpacas.
***********
If I can get the Spousal Unit to help rescue the mower from the depths of the shed, today should be the first (long overdue) mowing of the season. I've turned as much of our lot as possible into beds & raised planters (and Himself is developing a genuine obsession with vinca as ground cover) but for dog-playground purposes, grass (or at least neatly-mowed weeds) is the lazy landscaper's choice.
 
What's on the agenda in your garden(s) this week?